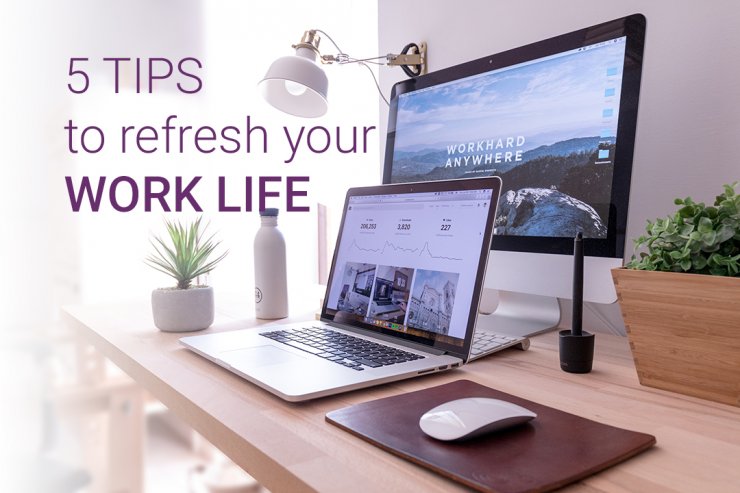 When you reach a  point in your job where every day feels like the day before, it can leave you feeling uninspired. Before you decide to get a new job, there are a few things you can do to refresh your work life and possibly change the way you view your current work. They say that a change is as good as a holiday, or in this case getting a new job.
Here are five tips that can refresh your work life.
Learn new skills
We are entering an era of life-long learning where skills need to remain current. Even if you are fortunate to learn on the job, it is still a good idea to get accredited for your skills. Recruiters look at the certificates earned as a benchmark to know that you have had formal training in this area. Companies like GetSmarter and Coding Mamas have a variety of courses that you can take to upskill yourself.
Ask for flexibility
Why not get a change of scenery and ask your employer if you can have a measure of flexibility in your workplace? It has been proven to increase productivity and loyalty to a company. Here are some tips on how to ask your employer for flexibility.
Rearrange your desk
Go through those stacks of paper that have been piling up on your desk and throw out what is not needed. Rearrange your work and computer files and delete all the clutter that is taking up space. Once the clutter has been cleared out you can add some inspirational effects around you. Maybe change your desktop background, take some new photos of the kids or get a plant for your desk.
Implement a new process
Look at the aspects of your job critically and see if there is any room for improvement. Are there some systems that are redundant or can be streamlined. Do not be scared to try new things. Have a look at online apps and tools that can make your work more productive.
READ: 12 Free Online Collaboration Tools For Virtual Teams
Start good work habits
So many of us do not take lunch or sit at our computers while eating and scanning social media. Make a point of taking regular breaks and drink enough water. Pack a healthy lunch and take the time to enjoy your break. With good work habits, your physical health can improve and make you feel better.
If you are seriously considering making a change at work, but not yet at the point of actively looking for a new job, then there are two things you can do to be ready for when the right opportunity comes along: update your social media profile and CV. Make sure that your social media profiles are up to date with your latest employment details. You do not want to miss out on an opportunity just because your CV and your LinkedIn account details are not correlated. Get a new photo taken where you are in your professional wear.
Your work has a big influence on your happiness and it must be an inspiring and positive environment. You do have some power over how you manage your attitude when at work. Play your part in making it a positive place for you to spend your time or make the change.
---
Ready to apply for the job of your dreams? Register on our award-winning recruitment site and fill in your detailed CV.