The Business Sense Behind Employing Virtual Moms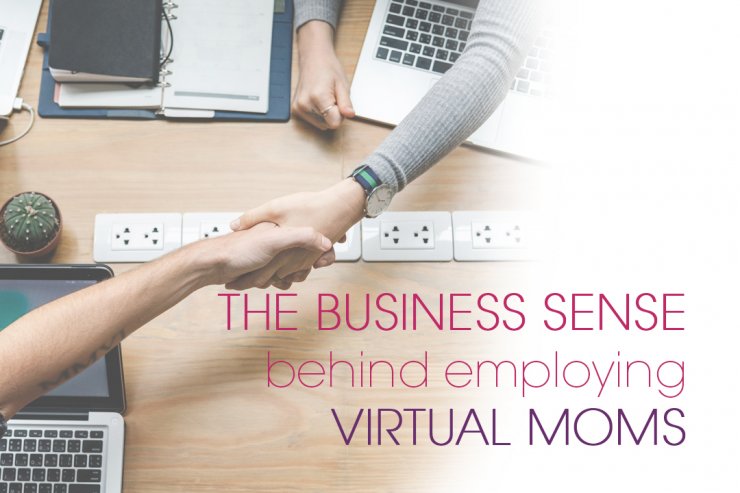 When entrepreneurs and startups grow past the point of the founder being able to do everything themselves, they face various challenges, most particularly staffing. Not all startups are fortunate enough to have that initial capital injection to be able to afford upmarket office space and the ability to fill the needed business functions at once. Most startups have to be creative to be able to provide the best business skills across various operational functions.
If only the perfect employee existed to do the books, the admin, the digital marketing and grow the business all at once. The answer is virtual workers and in particular work-from-home Moms.
Why employ moms?
Many moms have years of work experience. They are skilled in their profession and know how to do the job, requiring less training time and resource while guiding the entrepreneur with the best current practices. These skills create an immediate support system for the founder.
Research shows that employers that offer flexibility, like being able to work-from-home, have far higher levels of loyalty and commitment from their employees and, hour for hour part-timers are more productive than full-time in office staff.
Moms are known for their ability to focus on the task at hand and get the job done. They are masters at problem-solving, taking the initiative and being collaborative team leaders or members. 
Why work from home?
Growing a company does not have to translate into an entrepreneur needing to rent office space, buy desks or relocate. These are capital expenses that make hiring new employees costly. Flexible and work-from-home job opportunities make it possible for an entrepreneur to save on overheads while ensuring they get the high level of resource required to get the job done. Let's not forget the good one is doing for the environment by having one less car on the road during peak-hour traffic.
Certain jobs lean more to work-from-home or virtual work than others. Both accounting and administration are examples where much of the tasks today are cloud-based and done from anywhere provided there is an internet connection. Other examples are outcome based roles like business development, graphic design and content writing which are measured by results. Some employers prefer to pay a straight hourly rate and employees are required to submit time tracking support for the hours worked.
Below are RecruitMyMom's top 8 virtual work-from-home jobs for Moms today.
Accountants & Bookkeepers. A vital job which manages the financial aspects of the company. Having the financials in good order is paramount to the success of a business long-term. Depending on the size of the company, resource requirements will differ. SME's pay only for hours the virtual worker is spending on the account. There are many cloud-based accounting systems, like SageOne and Xero. Clients of RecruitMyMom get a 20% discount on all Sage Pastel training and courses.
Business Development Manager. An essential function when trying to grow one's business. They liaise with management and the marketing team to increase sales opportunities for the company. These roles are mostly outcomes based, and the employee paid a basic salary plus commission plus telephone/travel costs.
Graphic Designer. A fast-growing need in today's digital world. They create visuals in support of the brand, social media and advertising requirements. Design programmes are costly, and it saves the entrepreneur if the designer is using their own software. Typically designers are paid a project or hourly fee.
Content Writer. Content writing is another fast-growing area of need in a digital economy and is possibly one of the most convenient stay at home jobs. They create content for advertising campaigns, social media, websites and blogs. Collaborative tools like Google Docs and Microsoft 360 make it easy to provide feedback in real time.
Web Development and Coding. Experienced web developers and coders are in high demand and offering them the ability to work from home is a sure way to attract high-level skills.  The role is responsible for creating, coding and modifying websites, from layout to function according to a client's specifications. Companies often hire developers as consultants, rather than employees. Developers may work on a monthly retainer which ensures the entrepreneur is allocated a specified number of hours per month.
Social Media Writer/Strategist/Implementer. A job that did not exist before Facebook.  They create and manage business social media platforms and respond to customers who engage through these formats.  Social Media writers should be following a well thought out social media strategy which will align with the overall company communication goals. They mostly paid per hour as contractors.
Legal consultant. Very often a legal consultant is only needed for a specific case or to give advice. Hiring a skilled legal consultant who works from home can save a company fortunes.
Personal Assistant. In this case a virtual assistant. The role can include a variety of administrative and personal support tasks, but mainly does scheduling of meetings, managing the diary, taking and making phone calls, arranging travel and managing emails and much more.  When an entrepreneurs plate is full, this is the answer to freeing up time to allow the founder to work on what is essential.
---
RecruitMyMom is an online agency that specialises in matching forward-thinking companies to highly skilled moms. For more information on how RecruitMyMom can help entrepreneurs, visit RecruitMyMom.co.za.
Categories
Featured Blog Articles