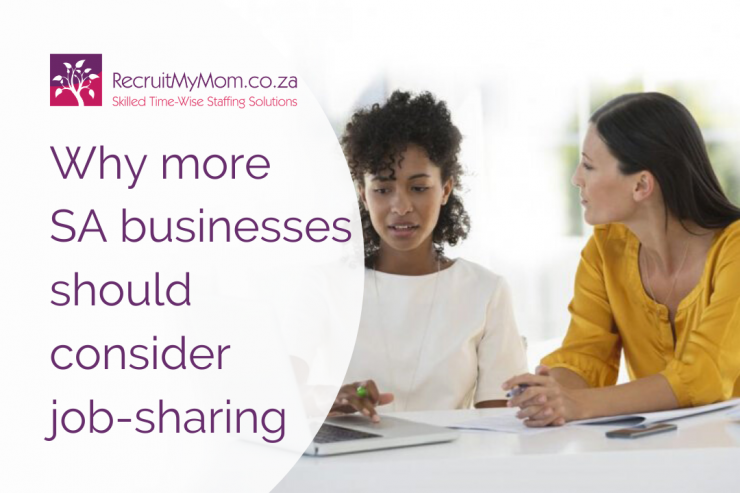 With unemployment in South Africa still on the rise and the skills gap becoming increasingly wider, businesses might need to reconsider the way they are hiring in order to find, attract and retain talented employees. Job-sharing provides an excellent solution to the above and has great benefits for both the employers and employees.
One of the toughest human resource challenges today is the recruitment and retention of talented employees. Quite often, candidates will tick most of the boxes to fill the job requirements but have one or two things missing from their skill set, experience or availability. Job-sharing allows you to hire two candidates for the price of one, getting the full set of skills and availability whenever you need it. If you're still not convinced, here are some more reasons why your business should adopt job-sharing ASAP:
It's a Win-Win situation
Job-Sharing allows the employee to work part-time and still further their career, while smart employers understand that this is a way to retain talented, experienced staff and maintain a full-time position within the firm.
You get double the talent
Two people bring two sets of talent and perspectives when it comes to problem-solving.  One employee's strengths can compensate for the other's weaknesses.
Productivity will be increased
Part-time employees have limited time in which to complete certain tasks. They will, therefore, take fewer breaks than a full-time employee would resulting in greater output and increased productivity.
There will be a reduction in errors
Two people doing one job means that there is an automatic checking system in place to ensure errors do not occur.
Maintain continuity
Continuity will be maintained during holidays, sick leave and other absences. Furthermore, if one person moves on, there is at least part-time coverage in a position until a replacement partner is recruited. There is also the possibility that the remaining partner could work more hours than usual until another partner fills the shared position.
Loyalty and retention are high
The rate of loyalty amongst job-sharers is generally quite high as they tend to stay in a job for longer. Businesses will thus save on training costs and retain employees with valuable skills.
Flexible working attracts diversity
Job-sharing is particularly attractive to female workers who have a family, or who are planning to start a family, and thus require flexible working conditions. Employers have a lot to gain from employing skilled mothers, aside from increased productivity and fresh perspectives, it will also endorse gender diversity in the workplace as there is a shortage of part-time jobs or flexible work for skilled mothers.
Will there be any challenges? The answer is yes. Job-sharing requires highly effective communication channels and clear responsibilities between the two employees, their team members, and managers. But challenges aside, it is an excellent opportunity for businesses looking to employ experienced, capable and committed employees.
---
RecruitMyMom places highly skilled talent into permanent and contract part-time and flexible positions. Post a job. It's free – pay only upon success.