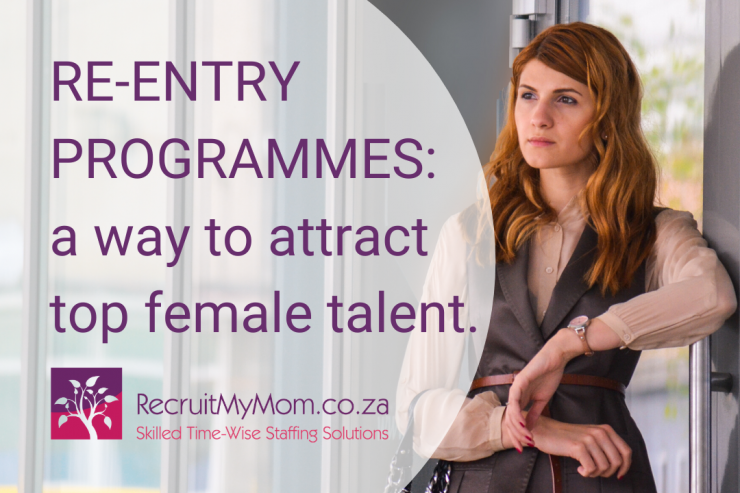 In 2008 Goldman and Sachs conceived the idea of a re-entry programme and dubbed it a Returnship. Since then it has gained popularity amongst businesses who are using it to bridge the ever-increasing skills gap within the job market. A survey released by PWC in 2017 stated that 28% of companies worldwide had already implemented re-entry programmes, including South Africa. Many companies that are battling to recruit and retain skilled employees are having to explore alternative hiring methods, such as work re-entry programmes, especially when it comes to retaining and attracting top female talent To demonstrate how it can benefit businesses, this article will explore re-entry programmes from all angles.
What is a work re-entry programme?
A work re-entry programme is an internship for skilled professionals who have taken an extended career break, and are wanting to re-enter into the workforce. Quite often re-entry programmes act as a bridge for these employees to get back into senior roles, or the positions they occupied before taking a leave of absence. As with internships, work re-entry programmes usually only last for three to six months, with the possibility of an extension or offer of permanent employment.
How does it differ from an internship?
With work re-entry programmes the company will acquire an already-skilled person who, from the beginning, will be required to work on key projects and initiatives that will allow them to supplement the skills and previous experience gained. They may require additional advanced training to learn new business processes or technology that may have been introduced while they were away. An ordinary internship will employ someone who requires more overall business training and would work on lower skill projects until they have gained enough on-the-job experience.
Why should you offer a returnship?
Companies who offer work re-entry programmes stand to gain valuable employees that otherwise may not have been on their radar, which is valuable in an economy where many sought-after skills are in short supply.
Apart from the skills, companies will gain and retain employees, some who may have left for family reasons
An important benefit of work re-entry programmes is that it can help to increase gender diversity on all levels of the business - especially senior management. Businesses can use re-entry programmes as a strategy to source and train more women into senior and management positions, which will help to ensure fair representation of both genders throughout the business.
Employers can save on training costs and remuneration as work re-entry employees are willing to accept lower wages for the duration of the contract. There is a low-risk factor with this programme as companies have no obligation to hire the employee once the contract has ended.
Why skilled moms are perfect for returnships
Moms who have taken a career break are excellent candidates for work re-entry programmes. Where traditional hiring techniques would regard a career gap as concerning, work re-entry programmes view it as an opportunity to capitalise on existing valuable skills. As many skilled moms have university degrees and are experienced workers, they could easily be placed into senior management roles or departments that require more gender diversity.
Read: Tapping Into The Skilled Labour Pool Of Working Moms
What types of jobs can be offered on a work re-entry programme?
Re-entry programmes can be offered for virtually any skill and are largely used for non-entry level positions. Currently, in South Africa, there are re-entry programmes being used in the marketing, engineering, financial, medical care and the tech industry.
The research is clear, gender diversity enhances the bottom line of an organisation. The gender leak that happens during child-rearing years is a reality that most businesses face. Re-entry programmes are a smart way to attract top female talent back into the workplace, particularly in departments or levels of senior management where diversity is absent. The benefit to top calibre women participating in these programmes is enormous, as they gain valuable training that brings them up-to-date with the latest practices in a short focused period of time.
---
RecruitMyMom is committed to assisting skilled women to find quality of life through integrating their careers into their lives by promoting flexible work arrangements and re-entry programmes. Speak to us if you are looking to hire top female talent for gender diversity jobs.