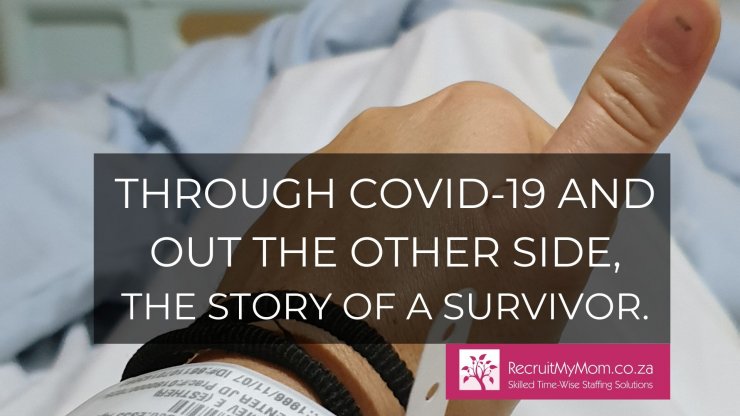 A RecruitMyMom employee, Esther Benkenstein, was diagnosed with Covid-19, hospitalised, presented with every Covid symptom and recovered. This is Esther's story on what it was like to be ill and what life is like post Covid-19. We hope this story encourages you, and reminds you that social distancing is in the best interest of everyone. 
How old are you, and how would you describe your overall health? 
I am in my mid-30's and have always been focussed on my health. I maintain a semi-regular exercise routine and am conscious about healthy eating. I avoid take-aways, so I did not miss them during lockdown. Overall I am fit and healthy. This was my first trip to the hospital in my life.
How did you contract Covid-19? 
Due to the national lockdown which started on 17 March 2020, I was working from home. The only places my husband and I visited were the local grocery store and the pharmacy. We religiously wear our masks and wash our hands. So I contracted the virus at either of these two places despite taking all the precautions stipulated.
When did you realise you had Covid-19?
I was unfortunate in that I was not one of the lucky people to display mild flu-like symptoms, like my husband. I displayed all the worst of the Covid-19 symptoms. 
On 5 May I started with a mild cough but by the evening it was clear that I was very ill. The next morning, the 6th of May, I was displaying all the symptoms listed on the SA Coronavirus website. It felt different from every other cold or flu that I have ever experienced. I had a throbbing headache that felt like a migraine, was constantly coughing, was struggling to take air into my lungs and had no energy whatsoever.
What did you do when you suspected it was Covid-19?
There is a lot of information on the internet as to what you should do when you suspect that you have Covid-19. In a nutshell, it is: 
1) Do you have any Covid-19 symptoms? 
2) Have you been in contact with anyone who has the virus?
If yes, you need to find out where your nearest testing centre is. You can find that out here. You do not need to be referred by a doctor to get tested. When I phoned my local doctor he told me to get tested and go to the hospital if I got worse. All he could offer me was moral support and advice. 
My husband then called the nearest testing centre and told them we are on our way. The nurses at the testing centre were so kind and patient with me during the pre-screening where they did the temperature check and required me to complete a questionnaire (with their help). The nurses' ability and empathy to authentically care for the patients they encounter, always astounds me. The test is a simple swab at the back of the nose. It all took about 20mins.
When did you get your results and how did you feel? 
Three days later I received my results via SMS: "Covid-19 has been detected". I was really sick at home by the time I got my results. I had persistent and constant head and body aches and zero energy. But the scariest thing was that I had extreme difficulty breathing. The same day that I received my results, we phoned the nearest hospital, explained my symptoms to the doctor and was told to immediately pack my bags to get to hospital, they still had one bed available. I was terrified. You have all sorts of thoughts running through your head. 
I do not suffer from any of the common underlying illnesses that so often cause death when combined with Covid-19, but I have an autoimmune disease called Schamberg's disease and a family history of Atrial fibrillation. This, together with the laboured breathing, was enough to get me admitted to hospital so they could monitor me. 
What was it like in the Covid-19 ward in the hospital?
At the entrance of my hospital room, there was a big box. Every time any one of the nurses, doctors, cleaners or kitchen staff came into my room they put on a fresh plastic apron, face mask and gloves. As they left the room they took it all off and threw it all in the bin box at the door. The care staff have to do this for every room that has a Covid-19 patient. I believe it is the little things and essential protocols like this, that take so much time to do, that adds to the enormous pressure on our frontline hospital staff. During the night, the person in the room opposite me was moved to ICU, and the serious nature of this virus hit me.
Fortunately, for me, all the tests done in hospital showed that I had no serious underlying health concerns, but that I had developed a lung infection. This is something that required bed rest and antibiotics as treatment. 
How long were you in the hospital and what happened after that? 
I only spent one night in the hospital, as bed rest was something I could do better at home. I received regular follow-up calls from the staff that tested me, from my local doctor and from the doctor at the hospital. Furthermore, I received a call from the Department of Health every day to check in on me and see how I was doing. All of them spoke with such earnest compassion and I felt so well cared for by the doctors and Department of Health. 
What's it like to be a survivor of Covid-19? 
On 20 May, three weeks after I got tested, I got the call to say that I was officially a Covid-19 recoveree. I did not have to get tested again, the virus has a lifespan, after which you are clear. I have such a sense of relief that I cannot infect anyone and that I am a survivor of this unknown virus. 
I am still taking it easy as the lung infection takes a long time to completely heal, but I am fully back at work and being able to work from home makes a big difference. I was able to return to work sooner than if I had to work at an office. Covid-19 is a scary and uncertain journey but I had so much support from my friends, family and work colleagues.  The doctors and Department of Health were amazing. 
 

"My terrifying experience reminded me that we never walk alone on our paths." 
Esther Benkenstein, RecruitMyMom Digital Marketing Manager
Please share this story with someone who may need to hear Esther's brave story.