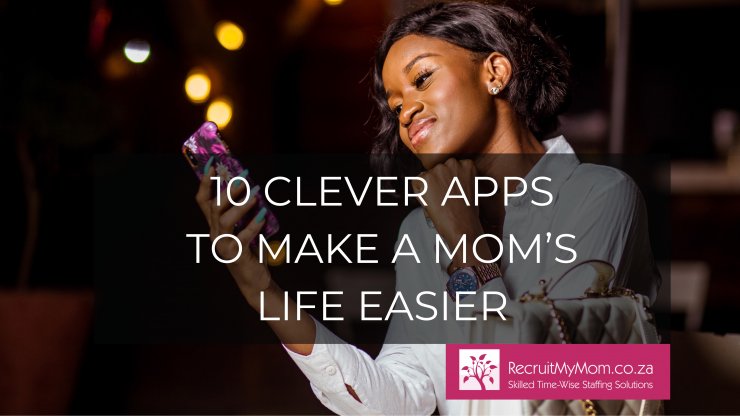 Working moms need all the help we can get. In between school activities, dinners, work and doctors appointments we hardly have time for ourselves. Here is a list of 10 clever parenting apps that we think will help busy working moms manage their day.
Keeping your child safe is the highest priority. This app sends alerts to your phone when there are suspicious activities on your child's phone. It is designed to protect your child against cyber bullying, drugs and online predators. The cost for a family is  $69.99 per annum.
2. Daddy Up 
Help your husband manage his expectations when you are expecting. This free app is designed to help dads understand the progress of your new baby in his language. You can download the app on your phone.
This free app helps you keep it all together. From school appointments to chores and more. The entire family can add to the same calendar. One of the best functionalities on the app is the shared grocery list where the kids can add items they finish.
Mediclinic South Africa has launched this app for parents-to-be for their new arrival and early life-stage development. It is a trusted source of information.
We, as moms, are in a constant rush and often forget to spend a little time with themselves. This app helps to bring back calm into your life by helping you journal. There is a forever free option.
Working from home or in a busy office comes with many distractions and when your head is in ten places at once it can be difficult to focus. This app has various ambient noises that can drown out the distractions. 
7. OurHome
OurHome is a family calendar and task management app. What makes it fun is that it is a gamified task system that rewards children for doing chores. The app is available for free.
8. AllRecipes
So much time is spent thinking about what's for dinner. This app has thousands of recipes and is searchable based on what you have in the cupboard at the time of the recipe search. 
This app helps you manage your childs' phone usage. You can set controls for screen time, track location, limit website usage and more. It provides parents with peace of mind.
10. Tap Tuck
This innovative South African app allows for easy cashless purchases of tuck shop meals, school events and uniforms. You can make one payment to multiple merchants. It is a one stop -tuck- shop for all your child's school activities. 
We trust that these parenting apps will  help you juggle motherhood and work life a bit easier. 
---
Join our skilled moms database and apply for the job that you've always wanted.