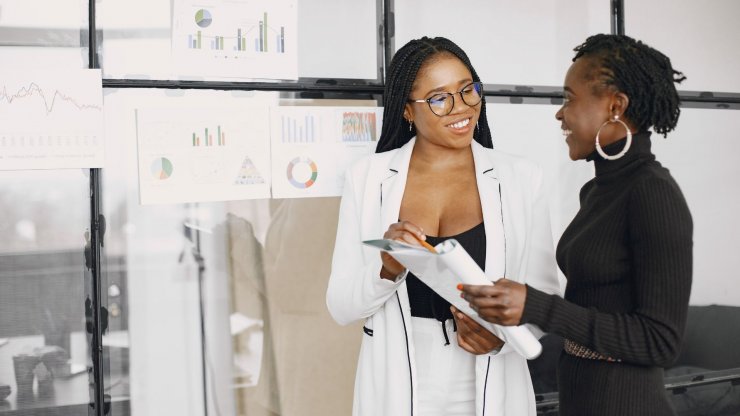 Staying current with regards to market trends, industry knowledge and new skills is vital for the world of work, to secure your job or to re-enter the marketplace. Being an intentional learner in your field can also help to advance your career and earning potential.
The enormous lifestyle adjustment after having children takes time getting used to for busy moms. For career moms, the Holy Grail is to be a mother whilst still maintaining a career. This is often more easily said than done.
Rapidly changing job functions and new technology and developments mean that losing your competitive edge can happen in a frighteningly short space of time.
For anyone walking the tightrope between work and family life, finding additional time to remain up to speed can be a challenge. How best to keep abreast of market trends, fast-changing technology, and expertise after having children?
Today, we'll discuss  some solutions that you may consider implementing. 
1. Keep nurturing your network
Many of us have an incredible network of friends, family, colleagues, associates, alumni  – past and present – who can assist.  It's simply a matter of harnessing this network in a targeted manner and branching out to new professional networks as well.
Check in from time-to-time and try to keep up with some of your professional, field-related contacts so you don't slip off their radar. If that's already happened, and you've been all-consumed with being a new mom, that's okay. Take the time to gently re-establish these connections by reaching out in the most appropriate way for the relationship. You never know what you might discover by reaching out.
You could also follow companies and leaders who inspire you. Many companies do have career portals with their available positions listed. 
At RecruitMyMom, we have a large network of forward-thinking companies who hire skilled professionals through our jobs portal. Have a look through our current openings if you're looking for work. 
2. Professional associations and industry bodies
Find out about joining professional organisations and groups that match your specialised skills and industry. Attend their functions, virtual events and seminars, be sure to subscribe to their online newsletters, network amongst the members and keep your membership fees up to date.
Here are a few places you could start:
3. News, the internet, and social media
The online world is a goldmine! Tap into online forums for industry-specific groups and skills sets and read online blogs on your particular area of expertise and interest. Leave comments or ask questions to start a dialogue with professional business people on these sites. Use LinkedIn and Facebook to connect and follow spokespeople within your industry. Like and follow relevant Facebook pages and join groups that are interesting. Using social media to expand your network and to curate your professional image is a great tool that costs you nothing. 
Keep abreast of current and international affairs. Follow the news and business papers online and on TV news channels. The online comments section of BizNews is open to subscribers. If you join the conversation commentary, you may find like-minded individuals to add to your networking list.
4. Short courses or micro-credentials
Short courses are called 'micro-credentials' and are a wonderful way for women to stay ahead of the game in their chosen career, while adding to their repertoire of knowledge. There are many emerging short courses which employers are looking for in new employees. It is also a great place to meet like-minded individuals and expand your professional network.
The tech world has opened up a whole new set of skills as well as access to these skills from wherever you are. Take a look at some of the available online courses or find workshops and achievement based educational experiences to stay sharp in your field, or add a new skill to your CV. 
5. Find a mentor
If you are privileged to find one, having a mentor to guide and assist you in your journey is a great way to ensure that you are always up to speed on what is happening with your industry. If you don't have one you could start by looking at professional business groups and in your growing network.
Keep your mentor close. Their counsel, experience, and connections are invaluable if they're willing to share them with you.
If you've ever been a mentor, remain on call to assist and advise younger people whom you have encouraged and helped in the past. These types of relationships are always valuable from a career and a personal perspective.
In a world of fast-changing technology, innovation and competition, staying 'current' is vital to re-entering the job market, with an eye to the long term advancement of your career and earning potential. The benefits of earning an income, working on varied projects and mental stimulation are enormous. Using the steps above, you'll have your competitive edge back in no time.
---
Join our skilled Moms database and start looking for the career that you've always wanted.