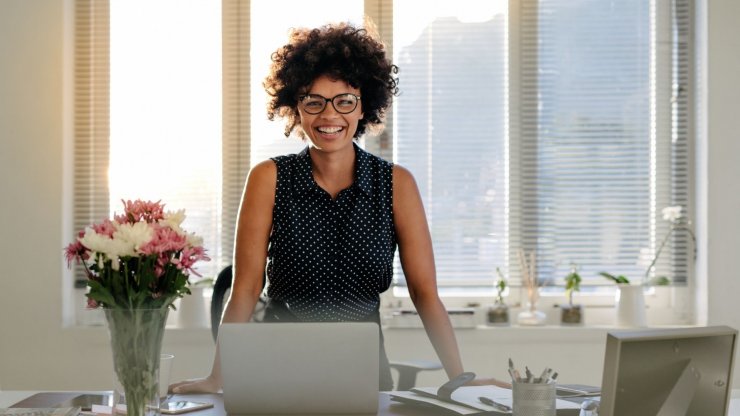 The time for transition is here as we are on the cusp of 'what's next?' when it comes to the shift in work resulting from the COVID pandemic. This year we celebrate ten years of RecruitMyMom. 
After ten years, we have reached a point of maturity as a company, and a new season of growth and success lies before us. Therefore, we have refreshed our brand identity to mark this milestone showing how RecruitMyMom has been and will continue to be relevant through the decades.
RecruitMyMom was founded on a shoestring budget and a passionate vision to see skilled moms connected with forward-thinking companies who would value the productivity and loyalty they give while providing for a mother's need to integrate work and life through various flexible work solutions. Founder and CEO Phillipa Geard watched as incredibly talented moms left inflexible workplaces to be with their children. As a mother of two, she was one of these women who were left with a deep longing to continue to build their professional careers whilst continuing to be available, present mothers. 
Phillipa, a visionary and philanthropist at heart, believed that this was possible. So why couldn't women work and raise their children simultaneously? With flexibility and a focus on productivity and not presence alone, she was confident it could work. 
A decade later, we sit with an established, well-known online solution for over 150 000 skilled women, thousands of clients and a team of extraordinary women in the RecruitMyMom fully remote working office. Flexibility, hybrid, and remote work structures have become the new normal through the pandemic. We adapt with the times to build the next chapter while celebrating ten years of growth and pioneering success for working mothers and as a company. 
The original RecruitMyMom logo has served us well.
The original RecruitMyMom logo design represents the relationship between employers (purple), job seekers (pink) and RecruitMyMom, the tree in the centre that connects the two. 
Employers need excellent staff and skills to grow, and job seekers need employers to provide meaningful work. At RecruitMyMom, we enable this symbiotic relationship. Our new logo has retained this original concept and is more a brand evolution than a revolution. And it continues to represent the vital relationship between our clients, job seekers and ourselves, however, with a wonderfully modern look and feeling.
The new logo represents our increasingly growing global footprint, not just our South African one. 
The modern mom in the RecruitMyMom brand
There are now more "girl boss moms" who form part of the RecruitMyMom community. These younger tech-savvy independent women get on with life and don't see any other way to work but flexibly. The mere idea of being in an office from 8-5 is archaic - after all, they can work anywhere and deliver superb results. Our modern logo design reflects the new breed of employers and skilled modern moms who have a can-do attitude towards flexibility and motherhood. Work-life integration is at the heart of RecruitMyMom, and it's what we will continue to hold onto in the future. Flexibility is no longer something we need to educate about and argue for; it has become necessary. 
We changed our slogan from 'Skilled time-wise staffing solutions' to 'Trusted professional skills.' This slogan reflects that clients and candidates have learned to trust RecruitMyMom for quality service and professional skills/jobs. So not only does RecruitMyMom provide trusted professional skills to our clients, our candidates offer trusted professional skills to employers. 
  10 years of positive social impact
RecruitMyMom has positively shifted the working landscape for thousands of women in South Africa over the past ten years. There has been a significant impact in keeping skilled mothers economically active and empowered through the work of RecruitMyMom. 
We want to thank all our clients, candidates and cheerleaders for supporting our work over the past decade. RecruitMyMom commits to continuing to make a difference in the lives of millions of women and children. Here's to being relevant through the decades!