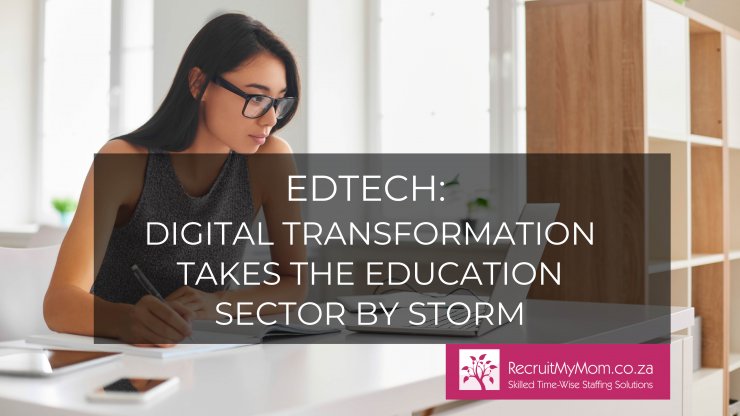 Over recent years, the education sector has seen a radical shift towards a more immersive, interactive and collaborative learning approach due to the introduction of instructional tools such as gamification and augmented, virtual or mixed reality experiential learning. Digital transformation in EdTech and e-Learning has forever changed the face of education. 
The COVID pandemic brought lockdown limitations on group gatherings and increased parental caution about sending children to school, which dramatically accelerated the adoption of digital technology in the education sector (EdTech).
Schools and tertiary institutions have quickly responded to social distancing regulations by ramping up their online offerings to offer students the ability for fully online learning, from remote environments or follow a hybrid (blended) approach between in-class and online teaching. Over the past year, online classes have resorted to a mix of real-time (synchronous) and pre-recorded (asynchronous) teaching methods.
RecruitMyMom has noted a marked increase in demand from clients for contractual skills in the fields of e-Learning Design, Instructional Design, e-Learning Technologists and in other online learning areas. Proprietary and mainstream Learning Management Systems (LMS) such as Moodle, Blackboard, Canvas and Articulate, are used to create e-Learning content aligned to the delivery and assessment of learning outcomes. 
As Phillipa Geard, Founder and CEO of RecruitMyMom noted "Since the initial lockdown announcement in March 2020 to date, we have experienced a significant growth in demand for our Ed-Tech skilled candidates. RecruitMyMom is well-placed to assist small and bulk resourcing projects for learning institutes due to our extensive database of quality remote-ready talent in the e-Learning and digital space".
How do I resource my remote or in-office EdTech workforce to remain competitive?
RecruitMyMom uses online collaboration tools to furnish client HR teams with a manageable workflow process and supporting portfolios for applicants, allowing you, the e-Learning client,  ownership of your workflow process from beginning to end.  Supporting information in the form of video interviews, skills assessments and confirmation of internet reliability, form part of the service provided to clients so that you can make quick and accurate decisions.
In the EdTech and e-Learning space, RecruitMyMom has a highly skilled, available candidate database of vetted:
Learning Designers
Instructional Designers
Quality Controllers
Proofreaders
Technical Controllers
User Acceptance Testers
Learning or LMS Developers
Video Editors
Learning Technologists
Many of the candidates have a postgraduate degree in Education and certifications in Instructional Design with in-depth knowledge of LMS tools.
How do I contact RecruitMyMom to resource skilled EdTech employees?
Contact us via Contact Us | RecruitMyMom.co.za to speak to a Recruitment Manager who can advise and assist you on your resourcing strategy.
How can I follow a career in EdTech and e-Learning?
A major draw card for those with LMS or education experience, has been the ability to work remotely and in some cases, adopting flexible hours.
The so-called 'second wave of digital transformation' has started and is best described as the meeting place between the digital world and a physical product. 
How can I ride the EdTech and e-Learning employment wave?
With most of EdTech and e-Learning jobs in South Africa being remotely managed, you would need to have a stable and fast internet connection, fibre is preferred.  Meetings are mostly conducted via video conferencing, so ensuring that you have a quiet and separate work-space is vital. 
To become a Learning Technologist, you would need to be tech-savvy with a basic understanding of Learning Management Systems (LMS) and collaboration tools such as Google Drive, which are used in the management of different pieces of content, video upload and so on.  You would typically have gained experience in assimilating content within the educational or training space.
To become an e-Learning or Instructional Designer, you would have completed a degree in Education and need to have created courses using storyboards for educational content digitally, using Learning Management Systems.
Finally, given the fast pace at which technology evolves, staying up to date with online learning technologies must be part of your life.
---
- By Jennifer Thomas, GM: Recruitment Operations for RecruitMyMom.
RecruitMyMom.co.za places highly skilled talent into permanent and contract part-time and flexible positions. Post a job. It's free – pay only on success