If you're looking for work, then you might want to consider becoming an Independent Contractor. It's a great way to keep your time and career as flexible as possible. Below we'll share some helpful information on how to become an Independent Contractor with RecruitMyMom.
The way that employers are hiring is changing due to the increased demand for certain skills and the rise of the gig economy. They are increasingly interested in hiring skills on-demand to add value when they are required. Subsequently, there is a rise in the flexible workforce, which includes freelancers and independent contractors. According to BusinessTechthe demand for flexible workers will accelerate in the next few years. We can already see this in a post-covid world where many workers have re-examined what matters most to them, and they are feeling more empowered than before the pandemic.
With the dire unemployment rates in South Africa, and based on some of the reasons behind The Great Resignation, many job-seekers are looking for more flexible and contractual work. It is good to know what you agree to and what the labour law says about the different types of jobs. 
This article aims to explain the difference between an independent contracting job and a permanent job; why some employers hire independent contractors as an alternative to permanent employees; what the pros and cons are if you have been offered an independent contracting position; how RecruitMyMom manages independent contracts; and how to become an independent contractor at RecruitMyMom. This article does not cover fixed duration contracts and will be dealt with at a later time. 
What is the difference between being an independent contractor and a permanent employee?
The main difference between employee, where employee is employed permanently, and independent contractor is the nature of the contract itself.  
The one contract (employee/employer relationship) is a Contract of Service - the employee undertakes to render her services (as opposed to an agreement to undertake and complete specific tasks) to the employer, usually for an undetermined or understated period of time, in return for which the employer undertakes to pay the employee for those services.
The other contract (Independent contractor) is a Contract for Service, and is usually a contract where the contractor undertakes to perform a specific service or task, and upon completion of the agreed service or task, or upon production of the result agreed upon, the contractor will be paid.
In the Contract of Service (employee contract) the employee is subject to the control and direction of the employer, the employer stipulates what hours the employee shall work, the employer dictates how and when the various tasks shall be performed, the employer provides all the resources to enable those tasks or services to be performed.
The employee is obliged, in terms of the contract, to obey the employer's instructions and direction with regard to all the above. 
In the Contract for Service (Independent contracting), the "employer" may dictate a certain date by which the agreed task must be completed, but he would not, for example, be able to instruct the contractor regarding what materials must be used and how the job is to be completed. 
A permanent job is governed by the Labour Relations Act of South Africa. Permanent employees will pay UIF and employers will contribute to UIF and Workman's compensation. There are other possible benefits such as medical, pension fund etc. 
The table below explains the difference between the two job types: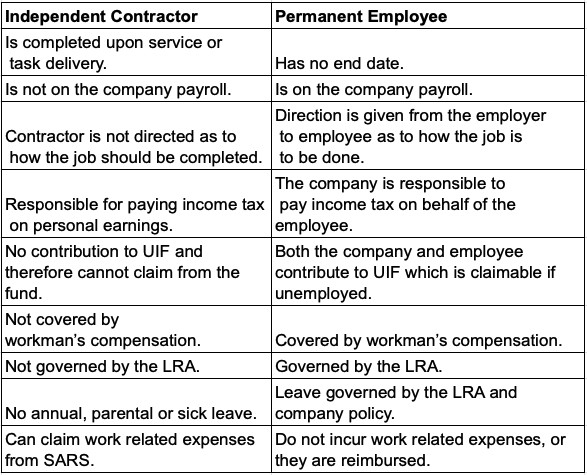 A true independent contractor has no protection under the  provisions of the Labour Relations Act and section 83A does not apply to persons who earn in excess of the amount determined by the Minister. It is for this reason that many employers will prefer to employ someone as an independent contractor. 
That said, if an employment relationship can be shown to exist, the CCMA can in fact rule that an independent contractor is an employee and should therefore benefit from the benefits of such a relationship as a permanent employee. If the "Independent contractor" does challenge the status, and allege that she is an employee, the onus to prove that she is an Independent contractor shifts to the employer. 
Why do employers hire independent contractors?
Budget – the hourly cost of an independent contractor to deliver a much needed service or skill may be higher, but the overall cost to the company is less than employing someone permanently. This may suit a company's budget when hiring particularly expensive skill sets. 

Staffing agility and the ability to scale - companies can quickly meet demand and resource requirements and then cut back on them when work demand decreases. 

Access to a diversity of skills - the ability to quickly access diverse sets of skills needed as a project progresses. 

Fixed company headcount -  independent contractors don't go onto the company payroll. 

Independent contractors are paid per hour, which means that no work equals no pay. Employers can terminate the agreement midway through an assignment, with a 24 hour notice period. 

Security to test a skill - a company might want to test the calibre of expertise and fit of a resource before offering them an extended fixed contract or permanent employment. 
READ: Staffing Agility In Times Of Need – The Case For Independent Contractors
The pros of working as an independent contractor
Flexibility. You get to choose when and where you work and at what rate. 

Independent contractors are paid per hour. 

You gain valuable experiences across a variety of clients. 

You get to experience a diverse range of office set-ups, which keeps it interesting and you get to work from home.

You get to create an expansive network of clients and colleagues. 

You can charge a premium compared to permanent employment. 

If working as a RecruitMyMom independent contractor, you are only working with trusted employers, and you don't need to collect the money, RecruitMyMom does it for you. RecruitMyMom will also do any rate increase negotiations on your behalf after 12 months.

You can terminate with only a 24-hour notice period.
Cons of working as an independent contractor
Your income and earning can be erratic depending on how many contracts you have.

An employer can cancel the agreement midway through a project with 24 hours notice, which means that nothing is guaranteed.

Banks may not allow you to take out a home or car loan.

You are responsible for paying your income tax.

You need to save for your pension fund and medical aid.

You need to purchase your own tools of the trade. For example, Adobe Illustrator if you are a web designer.
Being an independent contractor for RecruitMyMom
We contract your services and skills on behalf of our clients. We set up all the contractual agreements and collect the money due to you after receiving a completed and authorised timesheet for services rendered. As a RecruitMyMom independent contractor, your agreed rate is adjusted upwards to include our service fee to the client. 
How to become an independent contractor for RecruitMyMom
It's easy to indicate that you are willing to be considered for independent contractor roles.  Make sure you have added 'Virtual Assistant' in your list of skills in the 'Skills set' section on your candidate profile. 
Find independent contractor jobs on the RecruitMyMom jobs page by selecting 'Independent Contract' in the search box. Also, keep an eye on our social media platforms where we advertise our jobs.
Changes in the employment landscape are unavoidable, and these changes come with both pros and cons. We are hopeful that these changes will lead to more meaningful, flexible and work-from-home job opportunities for skilled moms. 
---
Ready to apply for the job of your dreams? Register on our award-winning recruitment site and fill in your detailed CV.