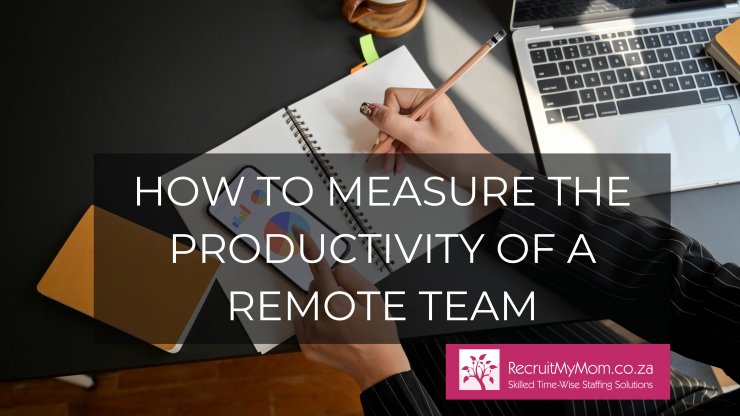 Thanks to global lockdowns and COVID-19, remote working is here to stay. Whether working as a fully distributed team or having a hybrid model of both in-office and remote working, how to measure productivity for a remote team is an essential question to answer for any company. 
Here are five steps employers can implement to assist in measuring productivity for remote employees: 
Communicate the Key Performance Measures (KPM's). 
For each job specification and employee, ensure there are specific, measurable, actionable, clear Key Performance Measures. The KPM's should be communicated in writing and aligned to the company values. Include in the communication how often a review of the performance measures will happen and with whom. 
Measure the Key Performance Measures (KPM's). 
Remote working works well when there is a high level of trust. Trust means that employers measure output and not presence. To build the trust, employers must ensure that the person responsible for conducting the measurement of performance, for the remote employee, has the right tools in place to measure the performance accurately. Example: If a business development employee is required to conduct twenty sales calls a day, what objective tool is in place to measure the calls? If conversion from call to purchase is the measure, what tool is in place to measure the conversion? Communicate with the employee what measurement tools are in place. 
Give regular feedback on the KPM's
Once measured, the employee must get feedback on their performance. A regular measurement and feedback cycle is an excellent way to performance manage an underperforming employee, or an employee who needs to be directed towards achieving the critical KPM's. Regular feedback is highly motivating to high performers who can see that they are performing well and recognised for good performance. A lack of measurement and feedback cycle can be demotivating for an employee, whether they be office or home-based. 
Work on the development plan
Once the performance has been measured, and feedback is given, line-managers should work on a development plan with the employee to rectify poor performance, or agree next steps with an employee who may require more of a challenge to keep them motivated. The development plan will focus on behaviours and training needed to assist the employee in delivering the Key Performance Measures. 
Establish a high-quality communication flow path.
The critical success of a distributed workforce is the quality of communication flow and trust in the team. Expect remote employees to regularly communicate with his/her line-manager regarding the delivery of KPM's. Ownership of the delivery of the KPM's lies with the employee. Accurate measurement and implementation of the right tools is the responsibility of the employer. High-quality communication flow paths will ensure that employees can get on with delivering the KPM's of the job without needing to be micromanaged by overly controlling line-managers. 
By establishing a clear set of KPM's that are regularly and accurately measured, employers can easily measure the productivity of remote employees. The benefits of working-from-home are both for employers and employees when done in an environment of trust. Trust does not mean having zero measures in place. Clear performance measures that are objectively measured are highly motivating for both the employer and the employee. This process undergirds the mutual feeling of trust and quickly highlights underperformance while preventing unhealthy over-performance on behalf of the remote worker. 
If you require an HR consultant to assist you with performance management, KPM establishment, job specifications, disciplinary action or more, talk to RecruitMyMom. We have several top-calibre Human Resource consultants that can help a company establish a successful remote productivity measurement plan. Email us at admin@recruitmymom.co.za with your request.