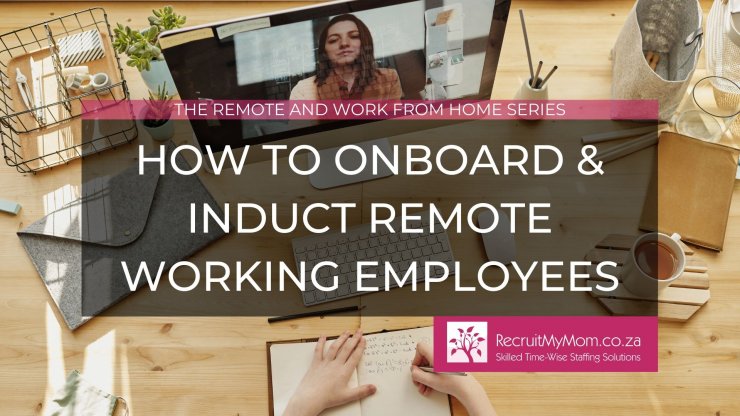 The success of onboarding and inducting a new remote employee is essential in ensuring that the new recruit feels part of the team from the beginning and that he/she has a clear understanding of what the expectations are. The onboarding and induction should include the setting up of a virtual office, introducing the new employee to the entire team and specifying the rules of engagement.
One of the most important aspects of the remote onboarding process is to make sure that the new employee is set up for work before the start date. Here is a helpful checklist to work through when appointing remote staff.
1. Send a welcome email prior to the start date. 
How do you write a welcome email for a new employee?
A welcome email not only welcomes the new employee but it helps get the employee get acquainted with information pertaining to the company's culture, details about their first day at work, their new co-workers and any other important orientation details.  It should, ideally not include any administrative documentation and come across as warm and welcoming making the employee feel relaxed, confident and optimistic about starting their new job. The welcome email can be sent soon after the appointment date is finalised.
Here are a few things to include when writing a welcome email:
Congratulate the new employee on getting the position.
Confirm the start date and working hours.
Include what to do on the first day.
If you are providing hardware, what the hardware is and how and when it will be delivered.
Be warm, friendly and personal, yet professional.
Leave them feeling your enthusiasm about them joining the team.
The tone of the email must reflect your company's culture.
Provide your preferred method of being contacted as well as all the contact details if they have any questions or concerns.
2. Share relevant company information and information packs.
What should a company information pack include?
The principles of onboarding an office-based employee are the same for a remote-based employee. If you would normally hand out an information pack or a file of documents when a new employee joins your company, do the same for the remote employee in a digital format. Closer to the starting date, you can send the employee more detailed information on the company, the work plan and information on which remote communication and collaboration tools the company uses.
Specify who their line manager is and the preferred method to contact them - email, telephone, instant chat or video chat. 
This information pack can include onboarding training information which the employee may be required to go through prior to their start date. 
3. Set up the virtual office for a new remote employee
When onboarding a new employee, it is essential that they have the correct remote office set up and tools to have success. A good home office set-up will go a long way to smoothing the way to a good start.
The first step is to do a hardware assessment of the employee's requirements. 
Do they have a computer or other suitable device that has all the functionality the job requires? Examples include: camera, Bluetooth, headset port etc. 
Do they have a backup should the internet or electricity not be available?
 Check the speed and stability of the employees internet connection or ensure an internet connectivity device is provided. 
Furthermore does the employee require a directional and noise reducing headset in order to perform the job without background noise or any other special job-specific hardware? 
Secondly, have the virtual workspace ready for the new employee. 
Set up his/her email and email signatures. 
Ensure that the employee has access to the shared online working space.
Make sure that all the security software is in place on the employee's computer before sharing any sensitive information and documentation.
Send the employee a list of applications that they will require on their computer if not already provided by the company. This includes any video, collaboration or VOIP applications. 
Remember to add the employee to instant messaging groups like Slack or WhatsApp.
4. Introduce the team to the new remote colleague
Building trust amongst team members is vital to being able to deliver higher productivity and ultimate value for a company. Trust is built on relationships, and assisting remote employees to form these bonds and relationships as quickly as possible will help the team. 
If you are going to build a future-fit remote workforce, trust needs to form part of your strategy. Here's seven ways to build a future fit company. 
Send out a welcome email to the company or department welcoming and informing the team of the new employee's arrival. This mail should include their email address and contact telephone number. 
Video interactions are a good way to welcome remote employees to the company.  The use of video conferencing for remote and virtual workers enables employees to observe facial expressions that are important to interpersonal communication as well as being able to connect the face to a voice. Regular video engagement will help a new employee be more comfortable in conversation and help build personal bonds with other team members.
Go out of your way to make the new employee feel welcome and comfortable as it is easy for a remote worker to feel isolated and alone, especially if they do not know the rest of the team well enough yet.
Introduce them to every member of staff with whom they may interact to feel part of a greater team and company. This is important for their sense of well-being,  performance, belonging and job satisfaction.
Feedback and reviews are essential
Evaluate how both existing and new employees are reacting to the onboarding process and have solutions if adjustments need to be made. Establish time frames for training, feedback and reviews and work out a schedule for availability to attend virtual team meetings.
Regularly touch base with the remote based employee and review any concerns they or you may have. 
At the end of the induction process both you and your new employee must be clear on the company values, team objectives and individual goals. Even though it might not be normal practice for your business, virtual onboarding is the best way forward. With enough planning and the right tools in place you can make having employees work remotely a success for your company and enjoying the financial and productivity benefits that come from hiring a remote workforce.  
---
RecruitMyMom has developed a remote working series to support employers with their transition to a more remote workforce. To view all the articles in this series, click here.