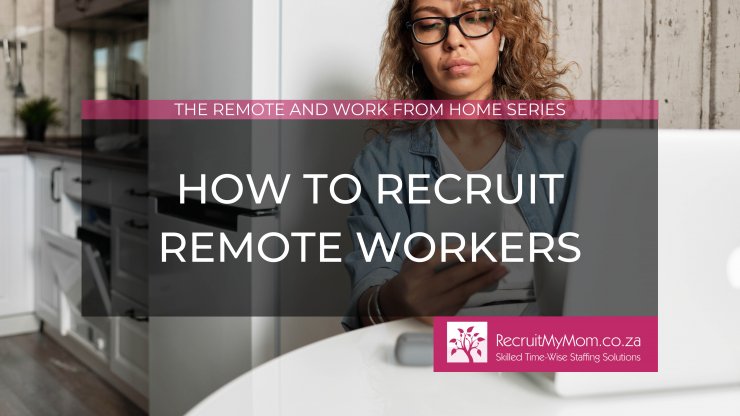 Hiring remote workers widens the talent pool beyond a geographical location. It enables companies to tap into top skills nationally and globally. If a candidate is being interviewed for a remote based job, they can be interviewed via video or telephone. Read the article on how to conduct video or telephone interviews. This will give the interviewer a good understanding of how the candidate projects, using remote communication tools. 
Even though most people will adapt to working remotely, it is more natural for some employees to adjust more easily than others. The right set of soft skills makes it easier for an employee to work independently. These can be specified in the job description when advertising a position.
These soft skills are important skills for remote employees:
The ability to work independently 
Are flexible
Organised
Highly collaborative 
Socially aware
Are self motivated
Successful time managers
Goal Focused
Are inherently good citizens 
Excellent communication skills, both written and oral
Are self confident
Have a good work ethic
Read more on soft skills in this article: Soft skills in the workplace.  An alternative way to test if a candidate has the necessary soft skills for remote working is to do a remote online skills assessment.  RecruitMyMom offers online skills testing 8 remote working personality profiles as an additional service to help employers to hire the best staff. View details on the online test here. 
Apart from soft skills, remote working employees need to have a home office set up that allows them to work remotely. 
There are various degrees to which employers can support an employee in setting up a home office. These include providing everything from office furniture, supplies, hardware (like laptops and printers), connectivity and software to not supplying any of the listed items. It is accepted practice that independent contractors and freelancers are responsible for their own office set up. The most popular set up for permanent or a fixed duration contract is that the company provides the employee with a laptop, but this will depend on the company, levels of security and the use of cloud based applications. 
Always specify what home office requirements are required in the job description. 
RecruitMyMom has a candidate base of highly skilled women across South Africa. Many of them have experience working remotely and most seek a degree of remote working ability within the role. The entire company has been working remotely since 2012. With over eight years of online recruiting experience we are confident that we can help you recruit top calibre remote employees.
---
RecruitMyMom has developed a remote working series to support employers with their transition to a more remote workforce. To view all the articles in this series, click here.