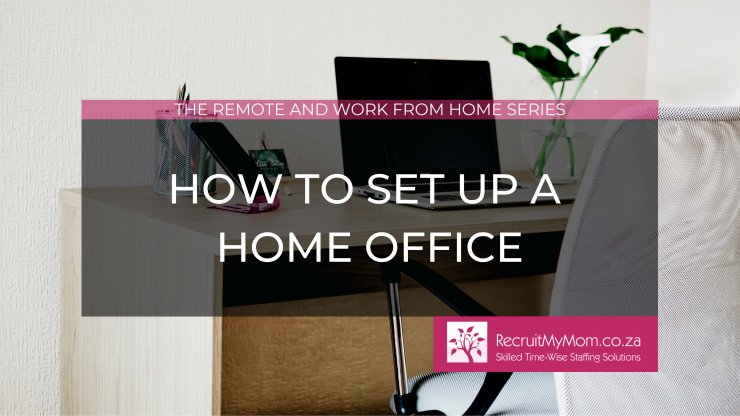 Many employers concerned about security and data integrity will provide a laptop or computer to their remote workers for home office use. In addition, there are other items like office furniture, additional hardware and software packages that can be supplied. Whether or not the items are provided by the employer or by the employee, here are questions you can ask to establish if the employee has the right home office set-up to work successfully for you. It is also a helpful guide to anyone wanting to set up a home office from scratch. 
The home office space
Do you have a space in your home that is a separate dedicated office space? How big is the space? Does it have a separate entrance or is part of the home? Are you able to conduct private conversations in the office space? 
General office set-up
What furniture and equipment do you have in the office? This includes a desk, chair, printer, shredder and any other required equipment to do the job. 
Internet connectivity
What internet and wifi connection do you have? What is the upload and download speed? Is it fibre, cellular or another form of connectivity. Fibre is the most stable if the employee is required to use VOIP.  A 20mbs upload speed is often sufficient, but it depends on the company. 
Computer 
Do you have a computer or other suitable device that has all the functionality the job requires. Examples include: camera, bluetooth, headset port, microphone etc. How old is the computer, will it be fast enough to do what is required? 
Productive environment
Does the home office environment suit the requirements of the job? Do you require a directional and noise reducing headset in order to perform the job without background noise? Read our article on how employees can avoid distractions. 
Backup power
Do you have a backup should the preferred internet or electricity supply not be available? Do you have a generator, inverter or UPS to ensure that you have backup electricity during load shedding? What contingency plans can be put in place for these eventualities? 
Ability to communicate
What is the main form of communication with the company? Is it a VOIP phone connected to the internet or will it be communicating via a mobile device, tablet or another software package? What will be done to ensure enough airtime on the mobile device if this is the requirement? 
Applications
What list of software applications will be required on the computer before the start date? This includes any security,  video, collaboration and VOIP applications. 
Security
What is required to ensure data and company security? 
What you can do as an employer to protect your employees from a cyber attack? 
Understand possible threats to your business.  Employers should work with IT teams and prioritise the protection of the most sensitive information and business applications.
Provide clear guidance to employees. Employers must ensure that home-working policies are clear and include easy-to-follow steps that empower employees to make their home-working environment secure.
Provide the right security solutions:  Employers should ensure that all corporately owned or managed devices are properly protected with up-to-date antivirus, device encryption, and firewalls
Covid-19 update: Staff that has been working from home for over six months of the year are able to claim office essentials from SARS. 
---
RecruitMyMom has developed a remote working series to support employers with their transition to a more remote workforce. To view all the articles in this series, click here.