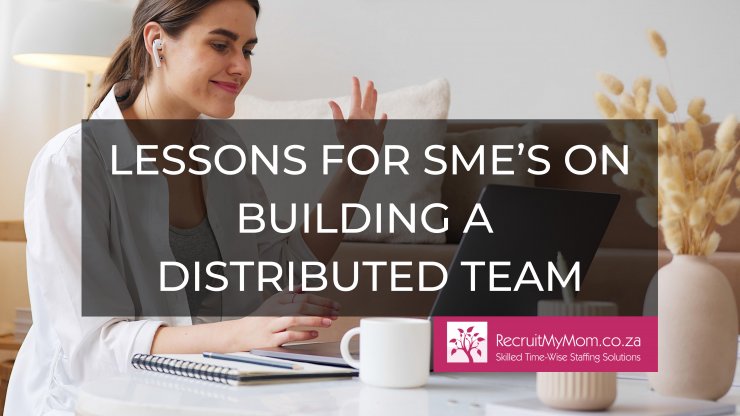 If you are considering keeping your workforce remote, you are not alone. Global Workplace Analytics predicts that 25-30% of the workforce will be working-from-home multiple days a week by the end of 2021. There are many lessons to be learned from others who have already taken the step to building a distributed team. In this article, we explore these lessons. 
The global remote working shift has opened the doors to various ways of working, including an increase in virtual assistants, independent contractors and virtual employees. Many companies have given up their central office opting to have their staff working remotely as a distributed workforce.
What is a remote team vs a distributed team?  
A Remote Team is mostly when a centralised office exists. Employees may be expected to periodically travel to a central location for training, team building, etc. It is quite common for companies to embrace a hybrid remote and in-office workforce. 
A Distributed team is when there is no centralised office that exists. All employees work in separate locations and communicate via online platforms.
The benefits of a distributed workforce include global talent access, cost savings of office space and fittings, increased productivity, and lower quit rates. Furthermore, companies with distributed teams often withstand economic shocks better due to the flexibility this model brings to the organisation. 
Since its launch in 2012, RecruitMyMom's organisational design has been one of a distributed team with all the staff members working from home-based offices, using digital platforms to function optimally. RecruitMyMom has staff members working across South Africa, and a permanent staff member residing in the UK, after emigrating but wanting to remain with the company. The team is highly effective, with a trust-centred workforce. When the Covid-19 lockdown hit, RecruitMyMom was able to continue working uninterrupted and focus their efforts on business-critical aspects rather than using vital resources to adapt to a new way of remote working.
Given our working model and working with thousands of other organisations that embrace remote and distributed teams, we want to share some lessons learnt over the years about how to effectively embrace a distributed workforce model.
Lesson 1 Pay heed to your leadership
Company values are the most vital driver of organisational culture, and it is the leader's responsibility to enact and reinforce the values. Values are the foundation that gives a company and the individuals in it solid ground on which to stand and to make independent decisions without slow-moving consultation. Your role, as a leader, is to fashion the distributed team that best fits your company undergirded by your values. Ensure that you are building a culture for all employees that provide a sense of belonging, stability, social cohesion, and identity. Focus on that which binds your employees together. Pay heed to the core aspects of your leadership and that of your broader group of leaders and managers. 
Lesson 2 Rethink your management structure
A traditional hierarchical management structure where divisions function in silos is challenging to implement in a distributed teams model. It takes longer for tasks to get completed. A flatter organisational structure provides a faster decision turnaround time and the ability to draw in team members from different departments ensuring better company-wide cohesion.
A well designed distributed workforce facilitates organisational agility through agile teams. With an agile team, you have a facilitator and not a team leader. The members can be from various functions and grouped as a team based on the project requirements and individual skills. At RecruitMyMom, we regularly create task teams and identify the right people to be involved in that team based on skill and interest. This allows the company to utilise the key strengths of the individuals. 
Lesson 3 Create streamlined and transparent communication
Working as a distributed team and distributed workforce means that colleagues will not always be aware of what's happening on each other's desks. They may not perceive how what they are doing is impacting on the company as a whole. It is therefore important that all team members over-communicate and, in turn, that leaders report back to the entire team on what individuals are involved with and how it impacts on the overall company and team objectives. 
For distributed teams, it is helpful to create shared calendars, including leave, which is visible to everyone who needs to know where team members might be. When working remotely, it isn't easy to keep track of the team's movements, and an open calendar makes it clear to everyone. 
Streamlined and transparent communication will ensure fully functioning, effective distributed teams and workforce There is a multitude of communication tools designed to make a distributed team work well together. However, too many different platforms can increase noise and cause unnecessary disruptions. Be intentional about what communication platforms you select and always choose those that work best for your workforce. Explain to employees which platform is used for what type of communication. At RecruitMyMom, we use WhatsApp for informal communication and email, phone and a task management platform for more formal and company-related communication. Clearly define what platform you will use for which communication and do not repeat tasks on multiple platforms as this will only cause confusion. 
Lesson 4 Be intentional about creating team cohesion 
It is important to be intentional about creating solid cohesion for a distributed team. It is vital for a company culture that employees feel as if they are part of a team, not just working as an individual. Find common ground "water cooler" topics to discuss and avoid too many topics that show obvious distance within the team. An example might be talking about the challenge of working from home and family, rather than the weather in each city. Hold on to the days when it was the custom to bake a cake for the office on your birthday. Ensure that your remote team celebrates together. At RecruitMyMom, we regularly order in food and do team lunches over video to connect socially.
Lesson 5 Use different time zones to your advantage
Hiring or outsourcing work to international workers across similar or different time zones can be a great advantage to any company. An obvious benefit of having an internationally distributed team is that employees can "work while you sleep". Working with South African contractors or employees when being based in Canada or Australia would mean that one can send work at the end of the business day to South Africa and receive it back completed the next morning. Utilising skills within different time zones can be particularly beneficial to the company when being managed effectively. At RecruitMyMom, our independent contractors are particularly attractive to first-world markets seeking cost-effective English speaking contractors in a centrally located time zone.  
Be cognisant of the different working hours for employees who are working across different time-zones. It is easy for South African contractors to work for European companies as the time difference is a maximum one or two hours in the winter. That difference is much more significant when considering Asian or American time-zones. Consider flexibility around working hours, and select the time zones based on business needs. 
Lesson 6 Get your hiring right
Each member of the distributed or remote team is responsible for personal time management. To ensure happy, fulfilled and engaged employees, it is advisable to allow flexibility in working hours to optimise output and productivity. Hire staff that want to and can work autonomously and that you can trust. Shared values are crucial when looking to hire. Oftentimes with small and medium-sized companies, the scope of work goes beyond the set work plan of an individual. Therefore it's important to have people on your team that are willing to take on various tasks, excited about taking on new challenges and being creative.
We trust that these lessons will be valuable to your company when considering a distributed workforce or even a hybrid model of remote and in-office teams. 
---
Visit RecruitMyMom, South Africa's award-winning online recruitment agency specialising in skilled part-time and flexible work.