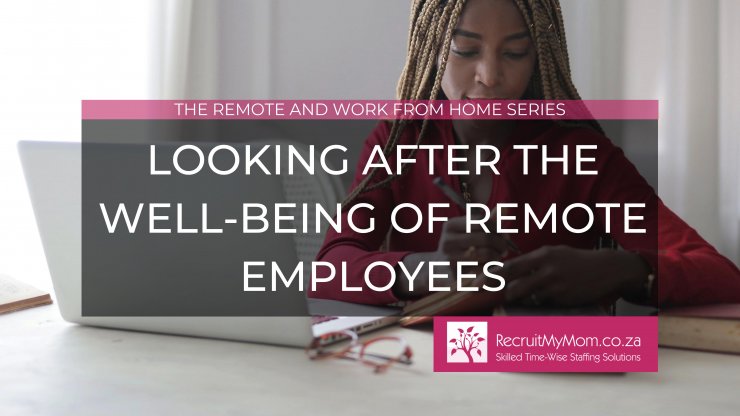 Having a remote workforce and implementing a flexible work policy requires leaders in organisations to intentionally consider how they will look after the well-being of remote workers. The well-being of remote workers is vital for several reasons. Firstly, remote workers are not seen on a daily basis, unless there is a daily check-in by the manager. And then the well known fact that remote workers work longer hours than in-office workers because of less commuting hours, fewer distractions and fewer breaks in general.  If not carefully managed, remote workers can feel disconnected, forgotten and burnt-out. 
As an employer or leader of a team, you play a significant role in nurturing the well-being of your staff and creating a structure that supports them.  It's important to help your team feel connected to their workplace, colleagues and clients while working from home. 
When recruiting leaders of remote teams, consider important traits such as empathy, the ability to connect on verbal and non-verbal cues, excellent communication skills, someone who is relational as well as responsible. 
Here are five creative ways to improve and maintain the well-being of remote workers.
Arrange individual catch-up sessions 
One-on-one catch up sessions are important to offer support, build rapport and help to build trust so that your employees will feel more comfortable to speak openly to you. The sessions can be scheduled, for example, on a weekly basis via a telephone call or video conferencing. By really listening to what your employee is saying to you will indicate if anything is affecting their well-being.  Let them know that you are there for them and that you appreciate them.
Organise team-building activities
Organise Friday afternoon brainstorming sessions or watch an interesting Ted Talk together with discussions afterwards. By doing this you will keep spirits up and give your employees the opportunity of seeing each other, giving the impression that they are still connected to a greater team and a greater purpose.  Continue these chats via instant messenger or phone. Don't just rely on email as a primary form of communication. Doing something playful and light-hearted can alleviate stress and allow employees to release the healthy endorphins that come with laughter and fun.  
Send all employees a tiny desk plant or other decorative item
Working from home can be an adjustment for employees who have had to transition to remote work after years of being in an office environment. Sending your employees an identical tiny desk plant will reinforce their sense of well-being and belonging. The plant will serve as a reminder of unity, life and positivity. At RecruitMyMom each employee has a small beaded bus which represents our purpose and is threaded into our daily work lives. 
Say thank you and well done
In a virtual environment, it is not as easy to see or acknowledge daily achievements and even small improvements can often go unnoticed. Take the time to send a meaningful and sincere message to your employees to make them feel valued and appreciated. 
Keep employee morale up by offering interesting resources
To ensure your employees are feeling supported you can send weekly notifications of the various resources that are available to them such as  virtual fitness and wellness workouts, as well as live seminars, podcasts and webinars on a host of topics ranging from nutrition to financial advice.
Encourage healthy habits
Working from home can have a negative impact on one's health as lunchtime, snack time and tea time could happen at any time. The convenience of having food and snacks readily available throughout the day can lead to unhealthy eating habits. Being physically unhealthy can inadvertently affect the mental well-being of an employee and could have a negative impact on their quality of life. Depending on your company culture, this could be anything from participating in nationwide sporting events, like the Ladies Race together or simply encouraging each other in an informal manner to drink enough water.
Looking after the well-being of your employees is important because a happy, well-balanced remote team can deliver unparalleled productivity. The principles of looking after the wellbeing of an in-office employee are the same as those of a remote employee, the execution will differ. During Covid, it was said of an employer that he had never felt more connected to his now-remote staff because of his daily check-ins. Something he didn't do when in office, he just assumed everyone was fine and a quick hello would suffice.  
---
RecruitMyMom has developed a remote working series to support employers with their transition to a more remote workforce. To view all the articles in this series, click here.