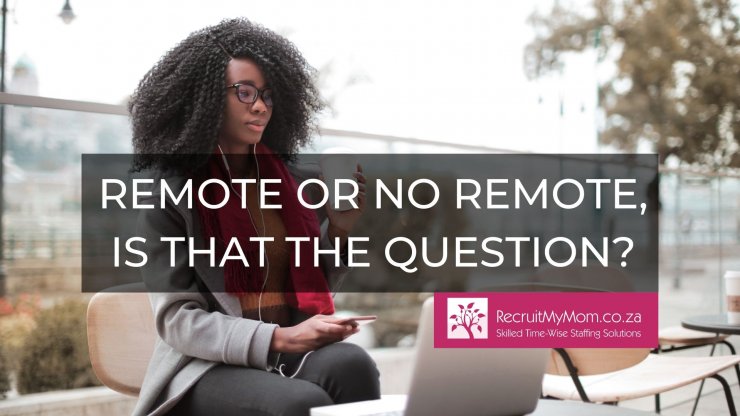 Written by Phillipa Geard, CEO of RecruitMyMom.
Remote working - should companies continue or not? As millions of employees scramble into remote working since the global COVID-19 outbreak, the question on many employers minds, post-lockdown, will be "do we continue with remote working or not?" In this article, I explore the benefits of remote working, and why the decision does not need to be one or the other, it can be both to reap the positive rewards of embracing a remote workforce. 
Data gained anecdotally from discussions with local employers, now forced into remote working, is that they have seen productivity levels soar. This emerging reality of increased productivity is contrary to the many stereotypes seen in the media and comics of people wasting time binge-watching Netflix and bouncing babies on their knee while staring at a laptop. 
Scientific research conducted by Professor Nicholas Bloom of Stanford University together with Chinese owned C-trip, a travel company trying to reduce its exorbitant Shanghai office rental bill while growing, supports this anecdotal data. Bloom, using a two-year study of 500 employees in two control groups, established the following:
Work-from home research productivity results: 
A 13% improvement in performance. 
Employees worked their full shift. 
Employees found it far easier to concentrate. 
Quit rates dropped by 50%. 
The remote working experiment was so successful that C-trip rolled it out to the entire company. C-Trip made $200 more per employee who worked from home.
Why the remote working productivity increase you might ask? Employees start their workday on time, refreshed and less harassed from being on public transport or sitting in traffic jams. Remote workers are more focused, have fewer interruptions, take fewer breaks and work longer hours. 
Let's not forget the objective - save on rental costs in an expensive city, while still growing the workforce—objective achieved for C-Trip. Employers, particularly in the tech world, are asking - is rent a necessary cost? Zoom CEO Eric Yuan has pointed to several companies — InVision, Zapier, or Gitlab — that have had success without a single physical office. 
"I've mentioned this to some of my friends," Yuan said. "If I started over with the company, I'm not going to have a single physical office. Many people asked me 'are you crazy?' They realize that's a reality now." - from GeekWire.
RecruitMyMom has operated successfully since 2012 without rented office space, enabling its employees, mostly skilled mothers, to work from home. We are firm believers that flexible working is a significant answer in the gender diversity question on how to enable more women to reach senior levels of management.
Let's not forget the advantages for employees. C-Trip saw a 50% drop in quit rate, which amounts to significant training and recruitment cost savings for companies. Remote working increases employee loyalty.  
The benefit of offering flexibility, particularly to female employees with children can be supported by research conducted by RecruitMyMom and Crimson line 2020 amongst over 1000 skilled women in South Africa indicates that after salary (60%), a flexible work policy (53%) and location  (44%) are the most important factors when looking for a job.  When asked to rank the most important company benefits when deciding on a job, flexible work policies ranked number one (82.2%), the ability to work remotely (63%) and medical aid (47.8%). The research shows that a flexible work policy should be an essential part the gender diversity and recruitment HR strategy of a company. Flexible work policies are an excellent way to attract and retain top talent in a scarce skills market while gaining the productivity benefit.
But, I hear you say -what about the downside of remote work, particularly during lock down where the challenges of work from home have been exacerbated? Let us be careful not equate the lockdown experience of working from home with the reality of remote working. Having to balance extreme financial pressure, a job, parenting, schooling, housekeeping and the general well-being of everyone all at the same time might be enough to put most people off working from home for life. 
It is true that for some, largely extroverts, they may prefer to work in an office type environment. But not always. Both men and women, extrovert and introvert, see benefits in flexible working. Some for family and work-life integration reasons, others to take up hobbies and, for younger generations, just because they prefer to have work flexibility. The solution is to give employees a choice.
"Choice in combination with working from home is hugely impactful. Go ahead and tell your boss you are working from home" - Nicholas Bloom Professor Stanford University.
What about company culture? Is it possible to build a company culture with a remote team? Yes! Many successful companies infuse their company culture and values into every element of what they do and how they deliver their product or service, including remote workers. And if your office culture is a vital part of your company culture, then offer your employees the choice to combine working from home with office attendance. You can still reap the rewards of lower costs and increased productivity, retention and loyalty. 
The answer to the question around the ongoing implementation of remote working does not need to be remote working or no remote working. The answer can lie somewhere in between, but it should not be a "No". Remote working is future-proofing your business. COVID-19 has shown us many things, and one is that it is entirely possible to have millions of workers successfully working from home and increasing performance levels on an ongoing basis. 
Giving your employees the choice to work remotely, or not, will increase your productivity and save you costs in the long run. It's a win-win strategy.
---
RecruitMyMom.co.za places highly skilled talent into permanent and contract part-time and flexible positions. Post a job. It's free – pay only on success