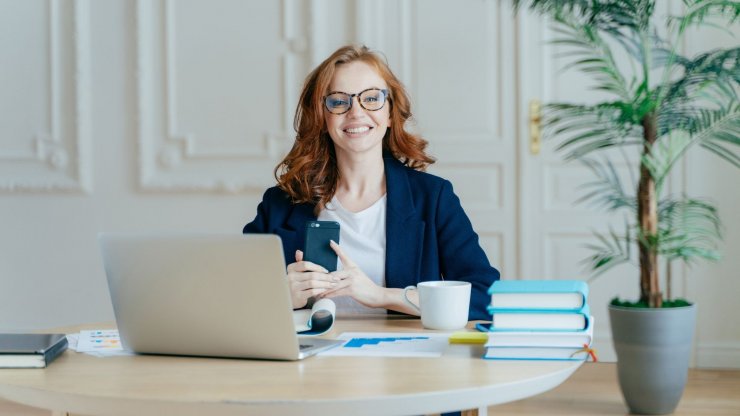 To have women in senior decision making roles within the workplace was completely uncommon just a couple of decades ago. We salute the many strong women in the workplace that have paved the way and made it possible for women today to achieve whatever they set their minds to accomplish.
Thankfully, the workplace has changed considerably since the 1950's, and we now find ourselves in a new era where remote/ hybrid working is in full swing, virtual reality and artificial intelligence is making it easier for mothers to be career women as well.  Research is showing that the most-valuable skills of the future are analytical/ critical thinking, interpersonal skills and leadership. 
Clients and customers alike are looking for more meaningful relationships from and within the workplace. As technology advances, these skills are irreplaceable and entirely humane. There is a need for personal and authentic connections. These qualities can be seen as more feminine, qualities like empathy, emotional intelligence, conflict resolution and other soft skills.
With this in mind, we take a look at four obvious benefits of having women in the workplace particularly in a digital era.
Customer Relationship Forming
Women are naturally inclined to form relationships with the customers they are in contact with through work. Relationship building gives them a better understanding of who the customer is and what their particular needs are. This knowledge not only enables the company to better communicate with the customer but also how to tailor and adapt the product or service offering in line with customer needs. They are more likely to nurture a client relationship, even in a digital space. Better offering and targeted communication mean an increased return on investment for the company.
Creating Healthy Office Environments
A healthy, positive office environment creates higher employee satisfaction and builds loyalty. Sharing cake on someone's birthday or dressing up to celebrate certain holidays builds team morale and spirit. Women are more likely to initiate these occasions than men. Events like these bring co-workers together and encourage positive, healthy office environments. They are more likely to collaborate with co-workers and with virtual teams coming together from all parts of the globe, having women team members can help facilitate that collaboration.
Inclusion and Diversity 
Having women in decision-making roles provides a unique perspective. Notwithstanding the research conducted by McKinsey (2017) shows that gender-diverse leadership in companies is 21% more likely to produce above-average profitability, while ethnically and culturally diverse leadership is 33% more likely to outperform. These stats are still relevant today where discussions about diversity and inclusion are prominent. A study conducted in 2020 by McKinsey shows that a need for diversity and inclusion in business was only becoming more important. We also see in another study by McKinsey how the skills women naturally carry in the workplace have been critical through the pandemic but not always recognised. 
Work-Life Integration
Generally, women are still the primary caretakers of the household, which means that their entire life is not centered on work. With the great strides being made towards flexible and part-time working arrangements with employers, especially through the pandemic, women are more likely to understand that people have personal needs and that it is possible to be highly productive and work flexibly. This empathy with co-workers from senior management will create loyalty and increase retention for employers.
Having women in the workplace is a no-brainer that benefits any office environment through fostering loyalty amongst customers and employees. For a world that is moving quickly towards digital workspaces, it is imperative to have this diversity. 
RecruitMyMom is an award-winning online recruitment site specialising in skilled workers, on-demand. Post a job. It's free – pay only on success.