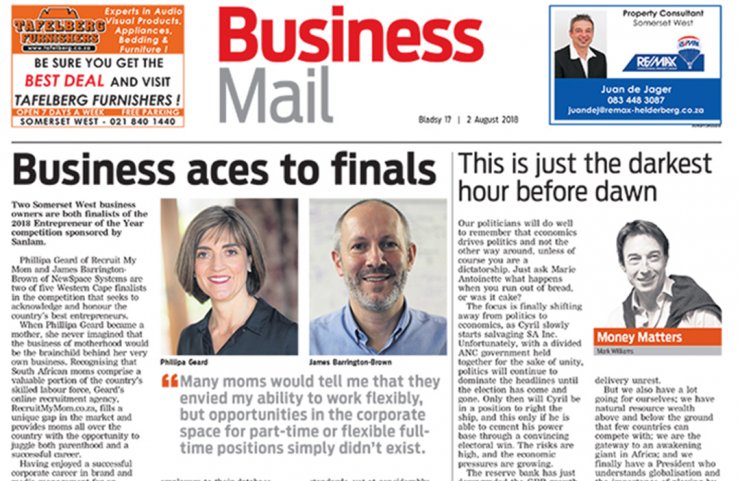 Two Somerset West business owners are both finalists of the 2018 Entrepreneur of the Year competition sponsored by Sanlam.
Phillipa Geard of Recruit My Mom and James Barrington- Brown of NewSpace Systems are two of five Western Cape finalists in the competition that seeks to acknowledge and honour the country's best entrepreneurs. When Phillipa Geard became a mother, she never imagined that the business of motherhood would be the brainchild behind her very own business. Recognising that South African moms comprise a valuable portion of the country's skilled labour force, Geard's online recruitment agency, RecruitMyMom.co.za, fills a unique gap in the market and provides moms all over the country with the opportunity to juggle both parenthood and a successful career. Having enjoyed a successful corporate career in brand and media management for an international company, Geard is no stranger to hard work and perseverance. After having given up her career to be a full-time mom, Geard launched a marketing consultancy company after the birth of her second child, where she could work her own hours.
It was during interactions with the moms at her children's school, however, that the idea for RecruitMyMom.co.za came about. Geard realised that there were plenty of moms who had walked a similar journey to her own – having built successful corporate careers, but choosing instead to dedicate their time to their children and families. "Many moms would tell me that they envied my ability to work flexibly but opportunities in the corporate space for part-time or flexible full-time positions simply didn't exist," says Geard. RecruitMyMom.co.za was launched in 2012 to uniquely and successfully meet a specific need among professional, skilled women wanting to return to work in a flexible capacity. The agency is easily accessible online which means it can cater to all of South Africa.
RecruitMyMom.co.za offers a personalised service for permanent, temporary and contracting positions. Employers are simply required to offer some kind of flexibility within the required position. Since launching five years ago, the agency has acquired nearly 50 000 skilled moms and thousands of registered employers to their database which includes over 150 skills ranging from accountants, actuaries and lawyers to people with digital, human resources and office support skills. From an initial one-woman show, the business has grown to employ eight full time staff who all work remotely from their home offices.