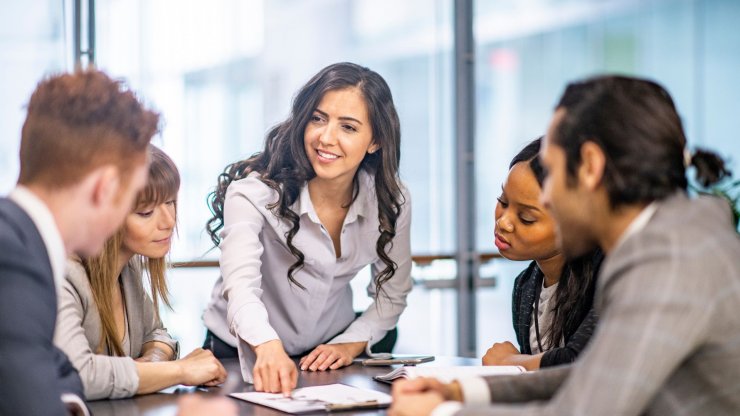 Although gender diversity is growing in awareness, there's a continual need for intentional action behind some key challenges that women in the workplace face. According to a recent survey, only 43.4 percent of employment in South Africa in the second quarter of 2021 were women. Of those in management positions, only 33.1 percent were women. Not only is decent employment one of the United Nations Sustainable Development Goals (SDGs), but so is gender diversity. It's safe to say that finding decent employment, as a South African female should be a top priority for all business owners. Among many other reasons, these are central to our passion for what we do at RecruitMyMom - provide smart, skilled women with meaningful, flexible work opportunities that benefit forward-thinking employers. 
The abovementioned statistics are just one of the statistics pointing to the fact that women are still facing challenges in the workplace, and they've shifted only slightly since the pandemic. What is good for gender diversity is also good for business. 
How does attaining gender diversity benefit business?
Set your company up for success through prioritising diversity and inclusion in company culture. Part of attaining this is to focus on gender diversity, then you will enjoy the following benefits in the office or visual office:
Easier access to resources: with gender diversity comes a variety of credit and information sources as well as a wider range of industry knowledge and experience.
A wider talent pool: you are no longer limited by biases when recruiting talent. 
Diverse perspectives: unique perspectives that come from different genders are beneficial to avoid 'groupthink'. Diverse perspectives and insights also improve team collaboration. 
Improvement in staff retention: diverse workplaces are appealing to the talent of today, and inclusive environments are more conducive to retaining top talent over longer periods. 
Increased profitability: over many years, studies continue to point to the fact that increased gender diversity improves company profitability. A McKinsey insight finds that gender-diverse companies are 21 percent more likely to experience better profit performance. 
Challenges and opportunities for employers
Below we list some of the challenges that women face in the workplace as well as some of the opportunities for employers. By doing this, we gain clarity on how to bridge the gap between where we currently are and where we want to be in the future.
Women as primary caretakers in the home
When schools were closing during the lockdown period, it became clear who the primary caregivers are, as if it wasn't generally clear before. A study conducted by Deloitte found that the work-life arrangements for women (how, where, and when they did work) changed during the time of the pandemic. Women were the first port of call when children needed more support in the home. This led to many women leaving jobs, burning out, or looking for more flexible work environments due to reprioritisation. 
The solution: provide flexibility to support work-life integration
Providing flexibility will aid employers as they support the work-life integration that many skilled mothers are looking for. A PWC report tells us that women are still determined to succeed in their professional careers while remaining true to their life priorities. Providing flexibility will resolve this and even improve productivity. 
The gender pay gap
According to Stats SA, there is still a pay gap between male and female staff members in 2021. The study shows that more than half of the employees indicated that their annual salary increment was determined by the employer only - 52.8 percent of women and 52.3 percent of men which leaves room for gender bias to creep in. 
The solution: look for ways to be objective with salary increases
Look at ways to be more objective when it comes to salary increases. Annual salary increases are usually determined by sector, location, inflation, and job performance. For employers to promote a culture of pay equity, they can implement some of the following:
Increase diversity in your talent pool by hiring smart, skilled female workers.
Train up middle management and HR employees to ensure that they are aware and intentional about increasing pay equity. 
Review job speculations and work plans regularly to ensure that the work that is listed is the same as what is taking place.
Lower the negotiation in the hiring process and lock the salary in for whichever candidate you choose. 
Review compensation and reward plans for employees annually to ensure that they are market-related and fair. 
Expose and eliminate discrimination in pay decisions.
Make sure that performance evaluations are fair and standardised for all employees. 
Biases in the hiring process
As an employer, it's important to be aware of and remove biases in the hiring process. Discrimination on the grounds of race, gender, sex, pregnancy, marital status, family responsibility, ethnic or social origin, sexual orientation, age, disability, and religion is illegal in South Africa according to the Employment Equity Act. 
The solution: find practical ways to avoid bias in the interview process
Some practical ways to avoid biases in the interview process according to Lou Adler: 
Define the job, not the person: in the job description, describe the job and not the person. 
Establish an initial connection with candidates on the phone: this removes potential biases that can come through physical appearance, association, and more. 
Script the interview and keep it standard for all candidates. 
Don't make snap judgements about someone, take the time to be a juror and not a judge. 
Measure first impressions at the end so that you aren't pulled in any direction until making your final decision on which candidate is the right fit. 
The well-being of women paid the price through the pandemic 
Due to the pressures of the pandemic women have paid the price in their mental, emotional, and physical well-being. A global Deloitte study found that 46 percent of women who were surveyed felt that they needed to be "always online" for work. Of those, 45 percent felt overwhelmed and 48 percent said that their well-being had suffered. The restlessness in the psyche of women has caused an internal restlessness that will influence the decisions they make about work. 
The solution: offer practical support to women's health in the workplace
Although health is personal, there are ways that business leaders and managers can practically support the well-being of women in the workplace. Here are some ideas:
Have open conversations: teams need to be aware of the various health care needs of women. When colleagues and bosses are aware, through open conversations, they are more likely to support women who need it. 
Conduct surveys: surveys are an effective way for business leaders to listen to the needs of their employees. It's also important to note some of the trends in the needs of women, through anonymity. This gives the responders more credibility.  
Consider remote work: ask female employees if they would prefer to work from home as a way to ease back into the workplace after having children. Options are a viable way to empower employees and ensure that they feel understood. 
At RecruitMyMom, we are passionate about providing businesses with an opportunity to create social change and break bias. Our innovative approach to recruitment has touched the lives of thousands of skilled women and forward-thinking employers. Load a job, make a difference and pay only upon success.
Visit RecruitMyMom, South Africa's award-winning online recruitment agency specialising in skilled part-time and flexible work.