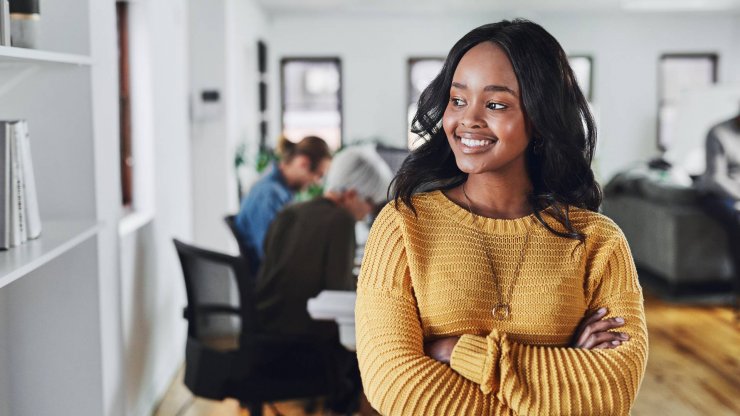 Flexibility at work is a top priority for many working mothers. Flexible work comes in various types. Flexibility with work place is one option, where employees have the freedom to work in whichever places are most productive for them. This could be in-office if they choose to work at a hot desk, or from a remote desk setup.  
Flexible work can also mean that you have a predetermined amount of hours to work but you decide how to work those hours into your day. You might decide to start work at 6a.m. and then complete your day at 2p.m. or 3p.m. We all work differently and our daily demands are as individual as we are, especially as a working parent. 
There are many benefits to flexibility in the workplace. It also leaves the onus on us, as the employees, to manage our work time, space and life commitments carefully. Studies have shown that flexibility is sometimes the best way to get the most quality and productive work in. 
There are many benefits to this way of working, and it takes a few helpful insights to find the right way to ask your employer for flexibility in your productive schedule. Here are a few of our top tips on how to approach your employer when asking for flexibility in your work day/week.
Identify measurable outputs and be accessible 
A concern many employers have when giving their staff flexibility is: will the person work and be accessible to the team, or will they be out of reach for hours on end and miss their KPIs? This is not necessarily just for those who have flexibility in their work place but also those who have flexibility in their work time. For example, your company may say you can get your 8 or 9 hours of work done within the time frame of 6a.m. and 6p.m. The idea with this is that employees can't necessarily work at 3a.m. because there's a need to operate while your team is working too and be reachable to co-workers within certain time frames.
The way to counter this concern is to ensure that you are reachable through the necessary channels of communication throughout your agreed working time no matter where you are, unless you let the team know you'll be out of your virtual or physical office. 
You could also identify tasks within your work plan that can be done out of office and are measurable.  An example might be that you need to input a certain amount of data into a spreadsheet every day. This is a measurable output that can be done out of office and in-office.   
Approach your employer or manager with a list of specific measurable tasks that you could do remotely during working hours as a means to stay above reproach. 
Note: You might also find some time-tracking tools useful so that your employer knows that you're sticking with the agreement you make with them for flexibility. 
Reassure the employer that there is accountability
Collaboration and team-work are important for any organisation. Having several team members working remotely can raise concerns for an employer as to the impact and the effectiveness of the team. With time flexibility, employers may feel that they have no control over managing the team when it comes to hours if there is flexibility. It would be beneficial to think this through before connecting with your employer so that you can provide solutions to these possible pain points.
If you are asking your boss for flexibility in your hours of work, but still operate in-office everyday then you'll need to be clear with them on how you plan to ensure your outputs will not suffer. 
An example might be that once a day the entire team has a conference or video call or an in house team meeting to discuss the weekly or daily priorities. You could also suggest monthly check-ins on your work plan and weekly KPI status updates. 
READ: 12 Free Online Collaboration Tools For Virtual Teams
Consider the possible implications
Employers want to treat employees equally and provide a safe working environment for everyone. Giving one person flexibility may have a snowball effect for the employer on the entire organisation.  
The way to approach this concern is to start discussing the possibility of introducing a flexible work policy for the entire company. This policy would cover different aspects of flexible working practices for all employees.
Provide a solution to the need for clear communication in a flexible work environment
If your employer is open to flexible working whether in workplace or hours, it might be helpful to do some research into team communication for a hybrid or remote working structure.  Provide some solutions and examples of how communication can be prioritised between team members in a hybrid or remote working environment. Communication is also important when you work in-office, but have flexible hours. Communicating or keeping track of your start and end times might be a helpful way to ease any possible blurred lines. 
This will assist in reducing any miscommunication or concerns about a lack of productivity.  The onus is on you as the employee to demonstrate your output and commitment to the team and organisation.
READ: Essential Success Elements To Implementing Flexible Work Arrangements In The Workplace
At the end of the day employers want to ensure that the work plans set out for employees are being taken seriously. Employers who see value, work ethic and commitment in an employee will be much more open to the idea of flexible work arrangements.