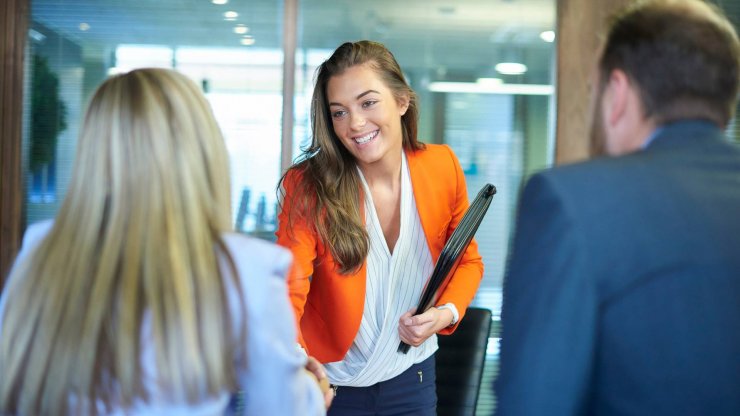 Dressing for an interview and knowing what to wear can be the difference between getting a job or not. Most people would refuse to turn up at a gym wearing flip-flops and a sundress to run on the treadmill, while a 2-piece business suit would invite ridicule in a spinning class. Neither would be allowed on a golf course. Failure to comply with dress codes would mean having to choose another pastime. 
It perplexes recruiters and interviewers that, when seeking employment, not everyone understands or respects the importance of presenting themselves as well-groomed and well-dressed for an interview.
What should I wear to a job interview?
Female interview dress codes differ depending on the company culture where you're being interviewed. It should go without saying that you must do your homework about the company before your interview. Surprisingly (to us, anyway) most candidates do not do any research about companies before turning up for interviews. With information so readily accessible nowadays, there's no excuse not to gain some basic insight.
What if there is no company information online?
Sometimes, you might truly be unable to find anything that gives you a clue about the company's culture and dress codes. Perhaps it is a start-up or a small family business. In this case, the safest bet is always to dress up rather than look too casual. Rather show you've put any effort into your appearance than risk being labelled as someone who doesn't care. 
What to wear to a casual job interview?
"Business Casual" is the phrase that pays in this case. Rather than thinking of the word casual in the traditional sense, always add the word "business" when it comes to an interview. Sure, you might find yourself dressed a little smarter than the rest of the employees but rather impress at the interview and ease yourself into the super-casual culture once you have started the job.
Leave your jeans, shorts, and sundresses in your closet next to your t-shirts and sneakers. Opt rather for a simple button-down summer dress or a semi-casual pair of capri pants with a nice 3/4 blouse and a simple pair of heels.
What to wear to a corporate job interview
They always say, "dress for the job you want, not for the job you have" and this is a mantra to keep in mind if you are going for an interview at a company that is well-known for its corporate dress culture. Think "classic" rather than "trendy". Keep the lines simple and elegant, professional. Keep colours neutral and patterns to a minimum. Make sure your clothing fits nicely and pay attention to detail, like the state and cleanliness of your shoes and nails.
What to wear for a virtual job interview?
If you're preparing for a virtual job interview, Wardrobe Consultant Tania de Clerk from Simplify Image recommends that you focus on the details that will be seen on the video camera, and make the extra effort to look good. See some tips below:
Take extra care with grooming. Not only can a good skin routine give you clear, beautiful skin but it also settles your nerves and gives you a confidence boost. 
Brush and style your hair appropriately.
Focus on accessories and make-up. You might want to wear some nice earrings but don't make them too distracting. Keep your jewellery choices simple and elegant. Wear enough makeup, but keep it professional. 
If you wear glasses, then make sure that they are not creating an extra barrier between you and the interviewer. Make sure your frames are not too heavy and dark to create a distraction. 
As a rule of thumb, V-neck tops, button-up blouses, and boat necks do well for most women on the camera. 
Avoid too many patterns and contrasting colours. 
Some other tips include:
Make sure you have a clean and complimentary backdrop
Ensure that the camera is facing you at eye level
Lighting is very important and you also need to ensure that you're in a soundproof environment to avoid distractions
Read more tips on how to dress for success in the workplace. 
Have a look below at some important hints at what not to wear to your job interview, as first impressions are so important.
 6 Things Not To Wear To An Interview
Anyone who interviews prospective employees regularly would, doubtless, have more than one grim memory to share about the clothing some of them turn up in. The old saying 'fine feathers make fine birds' is very true. Here are some ideas of what to avoid wearing when going for an interview:
1. Revealing clothes
While a jacket is a good choice for almost any interview, be careful of what you wear underneath. Inevitably, the deep-V formed by the jacket's lapel creates a plunging neckline. If you're going to wear a camisole or a top underneath, make sure it covers you appropriately. Always cover up for an interview. Start-up and IT companies may not require you to dress formally, but modesty is still a default position.
2. Not too casual
While many start-ups today do not require employees to wear formal work wear, arriving at an interview dressed in torn jeans and tie-dyed shirts and sneakers may not create the impression you want. Get the balance right with smart-casual wear by wearing tailored trousers and a well-ironed shirt. Avoid flip-flops, clumpy shoes, sundresses, shorts, branded T-shirts, and hats.
3. Distracting items
Err on the side of being conservative in your dress. Huge hoop earrings, luminous colours, bold bright patterns, and individually crafted artwork nails are all things that can distract the interviewer from hearing what value you can add to their company. Tone down on your makeup and jewellery and always remove your headphones.
4. Mind the smells and bells
Ensure you do not smell of an overpowering perfume, cigarette smoke, sweat, or the dog. Rather don't wear perfume if it might be off-putting to an employer. Don't wear excessive accessories like rings on your fingers, piercings, bangles, and other distracting accessories.
5. Ill-fitting clothes
If you have not been to an interview for a while, your "interview" clothes may not fit like they used to. Too tight, too short, or too loose-fitting clothing will not make a good impression.
6. Not too outdated
You may not have been for an interview for years and your clothes and shoes may simply look outdated. You don't need to spend a fortune on a good pair of beige, navy, or black pants, a smart shirt, and a new pair of neat shoes to look the part. It will be worth the investment if you get the job. If in doubt a pair of black smart pants and a white collared cotton shirt will work. 
Always Ask
If you're unsure what to wear before attending an interview, please know that you may ask us. It is a very common question, which we are happy to advise on at RecruitMyMom.
By following the rules, you can be confident that you have passed the initial test… that of creating a favourable first impression. Your style and smart attire will carry you through to the next phase of your interview. You'll be on your way to getting the job. Good luck!
Join our skilled Moms database and apply for the job that you've always wanted.