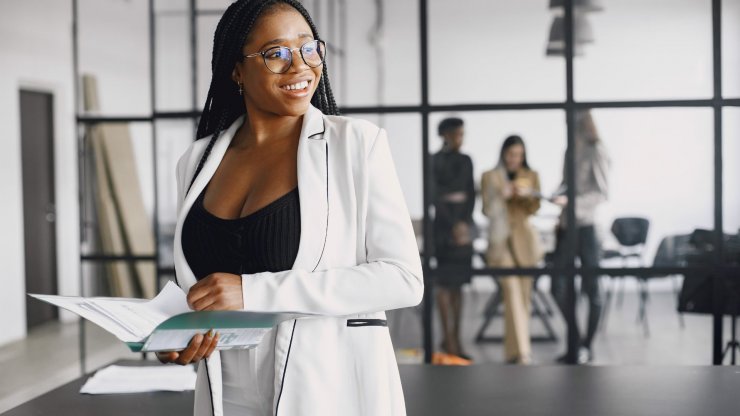 First impressions are made in less than twenty seconds of meeting. If this is the case when meeting a potential employer in person, then it also applies to your written words in a successful job application. Ensuring that your written and spoken language is up to scratch is essential to prove you're the right candidate for the job. Below we share our top language tips for when you apply for jobs through RecruitMyMom. 
Whether you are applying for a remote, hybrid, or in-office job, your language and the way you address potential employers can leave a lasting impression. Errors on your CV or cover letter can be costly. It takes up to 5 minutes to double check important application documents before you send them. Take the extra few minutes to make sure your CV is on top of the pile. Once you've wowed potential employers with your impeccable grammar in your cover letter, you'll be one step closer to landing your dream job.
Unfortunately, bad spelling can cause a reader to assume the worst about the writer's capability. Don't compromise your credibility when you have the tools available to create a professional application. 
There are set standards for correct language use
In the nation of South Africa, where we have 11 official languages, it is unrealistic to expect that every person applying for a job can speak, spell and write using perfect English. There might be job opportunities at companies that do business in other languages. Whatever the language you use in business, there are grammatical rules to abide by and spelling to check, if you are to create a great first impression. The jobs at RecruitMyMom are mostly in English, so if you are applying for work through your candidate profile, then there are a few practical things you can do to get past the parsing tool successfully. 
What is a parsing tool? 
If you're applying for jobs online, many websites and application processes will have what is called a 'parsing tool'. It's used to transfer the information you add into an online form completed when applying for a job, into a format that can be used by the person on the other side of the process i.e. a recruitment manager, interviewer, or potential employer. At RecruitMyMom we transfer your information into a branded RecruitMyMom CV. That's because we are a recruitment agency and not a job board. If you upload a Word document into your candidate profile on RecruitMyMom, then our parsing tool will interpret and populate the text into the required sections. Parsing tools may not always be accurate so make sure you check the accuracy. 
Tip: Language use and bad formatting of a CV can cost candidates a chance in the running for a job. Make sure you apply for jobs online with the same care you would have if you were applying in person. 
Spelling
Simple spelling mistakes can often be avoided by using a simple spell checker. Microsoft Word has a built-in spell checker and so do many computers and laptops. However, some mistakes can slip under the radar even after performing a spell check. For example, some words, called "homophones" sound the same but are spelt differently and have separate meanings.
Although tricky, it is essential to use them correctly. Here are some examples:
Principal/principle

Too/to/two

Peace/piece

Team/teem

Band/banned

Their/there/they're
Don't lose a good job opportunity by playing fast and loose with spelling. If you need to send your application documents to a friend to read and spell check with fresh eyes then take the extra time to do that. 
Grammar
Good grammar makes good sense, be it on social media, on business websites, in emails, or on blogs. Remember: Once you click send, your written words with their opinions, ideas, and biases are out there. Following grammatical rules makes it easier for the reader to understand what you are saying. This, in turn, makes it easier for the employer to know if you have the necessary experience for the job.
Here at RecruitMyMom, we all have a tool installed on our computers called "Grammarly". It's a free grammar checker that instantly eliminates grammatical errors while enhancing your writing. Grammarly is brilliant at suggesting where you might need to change your sentences, and add or delete punctuation.
Another tool we love is called "After the Deadline". You paste your written piece into a box and click Check Writing to get feedback on your writing. Click an underlined spelling error, grammar suggestion, or style suggestion to see more options.
Punctuation
Finally, punctuation is important and can change the entire meaning of a phrase or sentence, so take the time to reread what you've written a couple of times using different tones of voice. The following headline has, at first glance, a somewhat sinister meaning:
"Celebrity finds pleasure in cooking her family and her dog."
Can you see how the writer could have added two humble commas to change the meaning completely?
"Celebrity finds pleasure in cooking, her family, and her dog."
From a recruitment point of view, what could be as important as presenting yourself favourably with a well-written, thought-provoking job application? Attention to detail will grab the attention of recruiters. 
Words are how we express what we feel, see, hear and understand so they have everything to do with creativity and intelligence.
In constructing your words well, you will demonstrate that you value precision and order, so watching your words is crucial in helping you to reach your objectives and in finding your dream job.
---
Ready to apply for the job of your dreams? Register on our award-winning recruitment site and fill in your detailed CV.