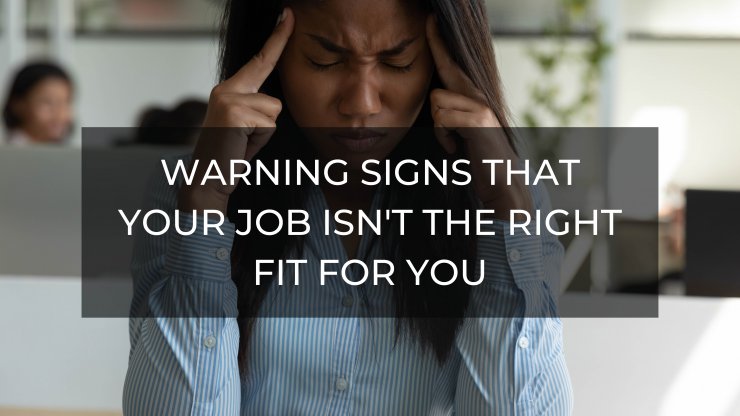 Sometimes, job offers may look more interesting in advertisements than they are in real life. When you apply to a new job, you will try to give it a chance as it's always good to embrace changes. However, when your motivation starts to fall, and you start to hesitate before going to work, it's time to take a minute and reconsider the decision you've made.  
Admitting that you've made the wrong choice can be scary, especially when you have been working on it for a long time. Landing a new job that doesn't fill your expectations can be disappointing. However, you'll have to keep your head up to move forward.
When you land in a new job, it's important to analyze and recognize if it helps you achieve your career goals. In the same way, you've got to be aware that it might take some time. Given that, if you believe that you didn't make the right choice or you are feeling uncomfortable in your new job, here are some signs that will help you figure out if it's not the right fit for you.
Your Strengths Aren't Needed for Your Current Position 
Landing a job where your best skills are not required can be frustrating. Given that, you have to consider if your strengths are going to be necessary for your actual position. Many people have different types of talents. For example, full stack developers can create visually appealing designs and have great programming skills. 
With this in mind, if a full stack developer applies for a sales position, their skills are going to be wasted as they won't be able to use the abilities from their actual career. Given that, if you're feeling frustrated because you are not using your strengths, you can talk to your boss. As a result, you'll probably find a way to implement your primary skills in your current position.
At the same time, if you're not able to find a solution after talking to your boss, it could be a big sign that your job isn't the right fit for you.
You Can't be Yourself
In life, it's essential not to lose our essence. In that case, it's important to highlight that if you are not allowed to be yourself in your current job, it's a high-level warning sign. For example, workers like database administrators are always talking about tech, programming, and ways to enhance their data management skills. Under those circumstances, they will be repressed if like-minded people do not surround them.
Additionally, working at a company with a great working environment will allow you to improve and get better day by day. On the contrary, you won't be able to move forward, and you will only live a monotony at your current workplace.
You've Lost Your Passion 
Having a passion for what you do allows you to have more significant results. In the same way, it is vital to achieving professional fulfillment. With this in mind, you have to realize if your current job makes you feel motivated. When workers love what they do, they don't mind accomplishing tedious tasks. In fact, they will do what's necessary to provide the best results.
Tech talents like UX/UI Designers need their creativity to create eye-catching products. Consequently, for UX/UI Designers, it's essential to work in a place where their imagination can flow. Feeling passionate allows employees to work harder to achieve goals and overcome challenges. For that reason, if you feel that you are losing your passion in your current job role, don't hesitate to quit and look for a new job.
Your Responsibilities Make you Feel Constantly Overwhelmed
Landing a job where you have a lot on your shoulders can make you feel overwhelmed. With this in mind, it's important to consider if you can deal with your responsibilities without compromising your performance. If you are always overwhelmed, you won't be able to perform well.
Admitting that your skills aren't enough can be a hard hit to your pride. But, remember that accepting when you are not made for the job can be helpful to avoid problems. In the same way, not everyone is prepared to deal with stressful situations. With this in mind, you should evaluate if it's necessary to quit or you just need a break.
Cybersecurity specialists are responsible for keeping companies' information safe. Under those circumstances, it's feasible to say that they often deal with stressful situations. In that case, as they can't compromise their performance, they need to evaluate their mental health and physical condition constantly. On the contrary, if they are not able to perform well, they won't be capable of avoiding data breaches and other cyber attacks.
There Are no Opportunities to Grow
Nowadays, as the competition is rough, it's reasonable to look for a place where you can grow. Having professional development is essential to improve and implement the best practices. Also, it's vital to get better jobs and, in that case, earn better salaries. Under those circumstances, if you can't grow inside the company or at least have professional development, it can be a sign that your job isn't the right for you.
In the same way, being up to date helps you to stay relevant. For that reason, being in a place where there are no challenges to overcome will make you obsolete over time. For example, tech talents like data scientists are responsible for creating insights based on gathered data. As a result, companies can make data-driven decisions that will allow them to increase their profits. Given that, a data scientist with outdated skills won't help companies to remain competitive. 
Conclusion  
When landing a new job, you should consider evaluating your opportunities as well as your working environment. In that case, you can determine if you are in the right place or not. Being surrounded by like-minded people helps you to have professional growth increase your job opportunities. Also, having a passion for your work will help you achieve your happiness.