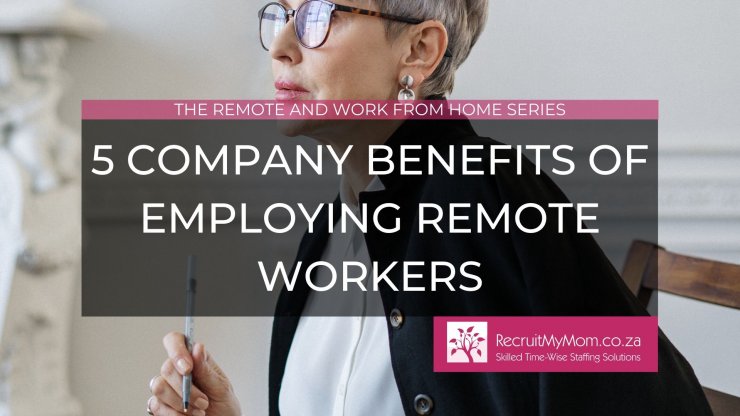 The benefits for companies that employ a remote workforce are numerous and include increased productivity and decreased quit rates. In this article we explore the benefits for both  the company and the employees when given the choice to work from home or not. 
1. Increased Productivity
Studies show that productivity increases for remote workers.  A study completed by Professor Nicholas Bloom of Stanford University together with Chinese owned travel company C-trip saw the following results: 
Work-from home research productivity results: 
A 13% improvement in performance. 

Employees worked their full shift. 

Employees found it far easier to concentrate. 

Quit rates dropped by 50%. 
Confirming the Stanford research, a 2020 Airtasker survey report of 1,004 workers' daily habits shows that a key difference between office and remote workers is that remote employees work more. On average, remote employees worked 1.4 more days every month, or 16.8 more days every year, than those who worked in the office. And on those workdays, they spent more time getting things done. This means that companies get better output for the same financial investment they make in their employees.
2. Increased cost savings
Based on estimates from the Global Workplace Analytics Telework Savings Calculator, a single company can annually save $11,000 per remote worker who telecommutes 50% of the time. The greatest cost-saving of remote working to companies is office rental costs. For example, CTrip gained $200 more per employee per month who worked from home, based on office space and furniture savings alone.  Another way to estimate the cost savings per employee is to look at what co-working spaces charge per person for a hot desk. 
Remote workers, and particularly freelancers and independent contractors, often use their personal computers and internet in home-based offices. This may not be the case for permanent employees, particularly where internet security is of concern. However, there are various remote working configurations from the company providing all the furniture, hardware and software to not providing any office equipment. No matter what the configuration, these costs translate into a net saving for many companies and start-ups. 
3. Improved gender diversity
Studies indicate that gender diversity, particularly at senior levels of management, increases the value and revenue of a company. Women, often being the primary caretakers in the home, are enabled to continue with a career enabling better integration of work and life through flexible work policies. These policies decrease the gender leak that takes place around child bearing age.  By offering remote and flexible work practices, employers retain top female talent and tap into an often unreachable talent pool of skilled women through agencies like RecruitMyMom. Here's 5 ways to improve gender diversity. 
4. Lower quit rates and increased employee loyalty
The State of remote work report 2019 indicates that remote work improves employee loyalty and retention. Employees have obligations and lives outside of work, and supporting them by allowing work from home with increased flexibility, ultimately leads to greater loyalty and commitment to the company. Not only are remote employees happier and get more work done but they are willing to go the extra mile in exchange for the privilege of working remotely. Ctrip saw a 50% decrease in quit rates when it implemented remote working. 
5. Positive environmental and societal impact
In South Africa, JSE listed companies need to report on their environmental and societal impact in their annual integrated reports. Even though this is not expected for SMEs it is good business practice to consider the impact your company has on the environment and society.  Working remotely eliminates the daily commute to and from work which results in reducing negative environmental impact and carbon emissions.  In South Africa, a study conducted in 2018 showed that commuters in Cape Town spend, on average, 49 hours in peak traffic, while those drivers in Joburg spend 46 hours, with Durban, Pretoria and Pietermaritzburg making up the top five worst cities. 
Working remotely has the positive societal impact of reducing stress levels. Stress is known to have a negative impact on employee productivity by reducing the employee's ability to multi-task and concentrate. Employees who work from home have greater flexibility with work schedules reducing the stress of juggling work and home life. A recent Gallup survey of 15,000 North Americans showed 43% spent some time each week working remotely with 82% lower stress levels exhibited by remote workers.6 Given the fact that remote workers tend to work longer hours it is imperative to ensure that the well being of employees is closely monitored to prevent burn-out and mental fatigue. 
The societal and environmental impact are interconnected. For example, reducing the daily commute for employees means that there is less air pollution, but it also means that employees are less stressed and in turn more loyal to the company.
---
RecruitMyMom has developed a remote working series to support employers with their transition to a more remote workforce. To view all the articles in this series, click here.