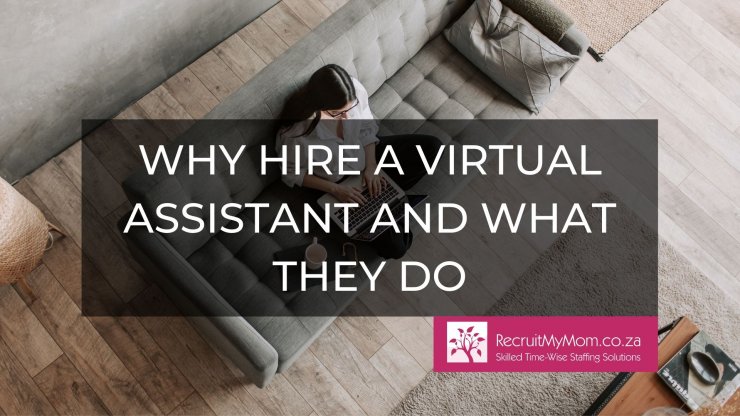 Why are so many companies globally hiring virtual assistants? What is it that they do that can help your business grow?
Why hire a virtual assistant? 
Virtual assistants (VA) are a cost and time efficient way to get tasks or projects done. In times of uncertainty as to what the future holds, hiring a VA to complete a task is a risk free staffing strategy. The ability to hire in skills on an hourly or project basis gives you flexibility and agility to be able to scale up or down on skills as required by customer demand. Read about what a VA is and load your project from our Virtual Assistants webpage.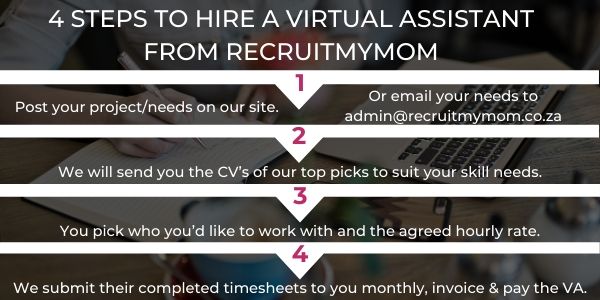 RecruitMyMom's top virtual assistant services
RecruitMyMom has an extensive database of over 100 000 many of which are virtual assistants in South Africa. We work with our clients to tailor the virtual assistant to your needs.
Here are RecruitMyMom's top virtual assistant services: 
SEO Virtual Assistant. Search Engine Optimisation (SEO) skills are in high demand as companies grow the quality and quantity of website traffic by increasing the visibility of the website to users of the internet. SEO improves unpaid search results and is highly effective as a marketing tool. Typically SEO Virtual assistants will have done a course and worked on several other SEO projects. 
Graphic and logo design virtual assistant (contractor). A fast-growing need in today's digital world. Graphic design virtual assistants create visuals in support of the brand, social media and advertising requirements. They are skilled in Photoshop, Illustrator, InDesign, Wordpress, Hootsuite, MS office and more. Typically designers are paid a project fee or hourly fee.
Data entry and data capture virtual assistant. This repetitive but necessary task is loved by our VA's. The more data the better. 
Lead generator and sales virtual assistant. Skilled in online and internet market research and lead generation, these virtual assistants are sales guru's. They often twin their skills with email marketing. 
Content Writers. The demand for virtual content writers is a fast-growing area of need in a digital economy and is mostly done as work from home. Content writers create content for advertising campaigns, social media, websites and blogs. Collaborative tools like Google Cloud and Microsoft 360 make it easy to provide feedback in real-time.
Transcription virtual assistant. Transcription services in south africa are growing as countries globally outsource their English audio and video material at competitive exchange rates, and favourable time-zones. 
Typing virtual assistant. Typing services are in demand for typing out hard copy word documents or converting hard copy material into a digital format such as typing a thesis or book. 
Social Media Writer/Strategist/Implementer virtual assistant. Do you need to hire an assistant to manage Facebook, LinkedIn, Instagram, Twitter and more? Social media virtual assistants create and manage business social media platforms and respond to customers who engage in these formats.  Social Media strategists and writers follow a well thought out social media strategy which aligns to the overall company communication goals. They are paid per hour or monthly depending on the scope of the job. 
Translation virtual assistants. Translators in South Africa can work on multiple translations including video, television, written and other marketing material. South Africa has the advantage of offering translation services in English, Afrikaans, SeSotho, Xhosa, Zulu (and the rest of the official languages), as well as foreign language translation services in Portuguese, French, German and more. 
Personal virtual assistant. Personal virtual assistants include a variety of administrative, clerical and personal support tasks, including scheduling of meetings, managing diary entries, taking and making phone calls, travel arrangements and email management.  When a business leaders plate is full, this is the answer being able to focus on essential work. 
Accountants & bookkeeper virtual assistants. Financial virtual assistants are in high demand in South Africa. A popular job for many highly skilled moms in South Africa. We outsource their skills both locally and globally to countries in Europe. Usually paid by hour most of our VA's using cloud- accounting systems, like pastel, SageOne and Xero. 
Legal virtual assistants and consultants. Having studied RomanDutch law our legal consultants assist many clients with varying contractual needs including paralegal services and agreement creation. Very often a legal consultant is only needed for a specific case or to give advice. Hiring a skilled legal consultant who works from home is highly recommended and cost effective. 
Human Resource virtual assistant. Outsource your HR function to a virtual HR consultant. Our HR consultants can work remotely or in office and can handle specific projects or manage the entire HR function. This includes, onboarding and training of new employees, see our article on how to train remote workers. 
We would like to help you source the best virtual assistant for your business or personal needs. If you would like to discuss your needs please contact us via the Contact Us page and a representative will call you.  
---
RecruitMyMom.co.za places highly skilled talent into permanent and contract part-time and flexible positions. Post a job. It's free – pay only on success