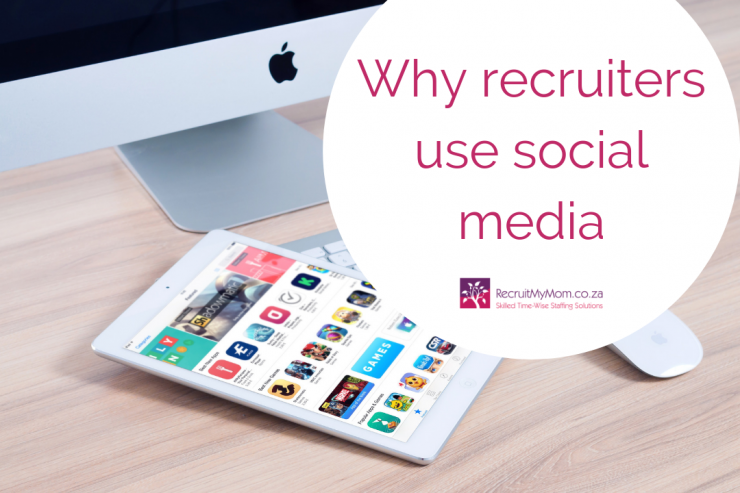 Social media has impacted many aspects of our lives. From the way we share information, get recommendations on which plumber to use to the way we do business. For businesses, it has created an opportunity to interact directly with their customers and provide them with relevant up to date information that adds value to their customers' lives. Recruiters and employers also use social media tools to grow their businesses.
What do recruiters mainly use social media for?
A study done in South Africa in 2016 indicates that almost all recruiters use social media as part of their recruitment strategy. Only 7% of recruiters use social media to screen potential candidates. This statistic indicates that the main reason why recruiters use social media is to post jobs, source candidates and keep their followers up to date with important happenings in the company. RecruitMyMom has an active Facebook, LinkedIn and Twitter following who keep abreast of our new jobs. With only 7% of them using social media to check if the candidate is a good fit or not. (Source SA Journal of Human Resource Management).
LinkedIn is the social media platform which recruiters use most of the time to find talent and skill. However, because LinkedIn does not show contact details, employers and recruiters may do a Google or Facebook search to get in touch with an individual.
For this reason, if you are in the job market, you will want to ensure that your social media profiles are up to date with your education and employment history. Keep in mind that if almost all recruiters in South Africa are using social media to source candidates, your social media profiles should be kept in good order. For instance, ensure that the information you have on your public social media profiles is accurate and truthful. READ: Lying about qualifications on a CV could lead to jail time.
Discrimination
In the cases where employers and recruiters do look at your social media profiles for screening purposes  they are not allowed to discriminate on grounds of amongst others, pregnancy, marital status, family responsibility, ethnic or social origin, colour, sexual orientation, age, disability, religion, HIV status, conscience, belief, political opinion, culture, language, birth or any other arbitrary grounds, because of The Employment Equity Act 55 of 1998 (EEA).
PoPI rules coming into play
The South African Protection of Personal Information Act (PoPI) is soon to be made law.  According to this act, where recruiters or employers do gather information about you, you have to:
be informed that your personal information is being collected;

consent to the processing of your personal data; and

the record of personal information may not be kept for longer than necessary for achieving the purpose for which the information was collected (in this case, the screening of job applicants. (Source Bizcommunity).
How to make your profile private
If you are uncomfortable with your personal information on social media being used in your job search, you can change your privacy settings on your profiles. Employers or recruiters will then not be able to access or use your personal information.
How to change your privacy settings on Facebook:

Log in to your profile

Select the dropdown arrow on the top right corner and select Settings

Select Privacy from the left-hand menu

Set the settings according to what you want them to be.
For more options on how to change your privacy settings on a mobile device, visit Business Insider.
Job seekers do benefit from having public up to date social media profiles. It makes it easier for recruiters and employers to find you. You do, however, have to control what other people can view your personal life. Either set your privacy setting to block viewers or be intentional about what you share.
---
Register for free on RecruitMyMom. Once registered, complete your online CV to start searching for part-time work in Johannesburg, Pretoria, Durban, and Cape Town. We operate nationally in South Africa, and globally for virtual assistants.