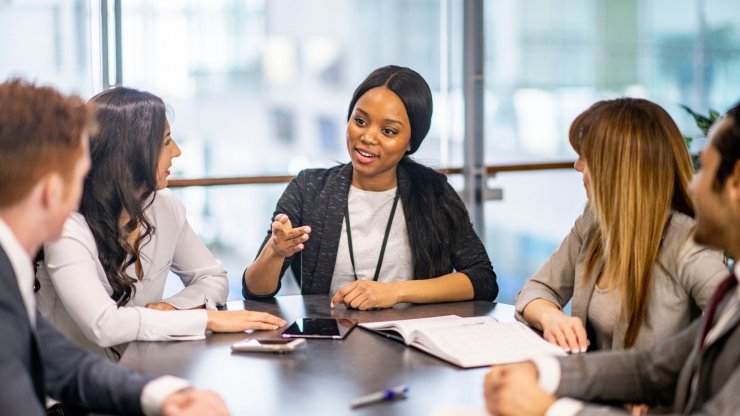 It's hard to believe that in 2022 we are still discussing gender bias, prejudice and the lack of gender diversity in the workplace. However, multiple studies suggest that gender bias is the reason why so many businesses are reluctant to place women into senior positions. 
According to Statista, "in 2021, South Africa had an overall gender gap index score of 0.78, placing it 18th out of 156 countries globally." The struggle for women in executive positions in South Africa is not a new one, with 68% of senior positions being held by men. Research also shows that although 51% of the South African population are women, only 20.7% of board members in JSE-listed companies are female. Some of these companies have no female representation at all in senior management positions. 
The cause of this bias is supposedly related to the traits that are commonly associated with women, such as empathy and compassion. We, however, argue that these qualities are, in fact, what makes women perfect for managerial positions.
Why hire women in a post-pandemic world?
As technology has grown during the pandemic years, there has been an increase of AI and virtual reality within all businesses. To help encourage human connection at work, businesses should look to increase qualities such as empathy, emotional intelligence (EQ) and conflict resolution (compassion-related items) - abilities that are generally associated with women. With this in mind, let us take a look at the ways in which women in senior roles can positively impact the workplace.
Women are better at forming relationships with clients. As such, they will be able to offer better insight into what customers really want. This will encourage innovation, generation of better ideas/improvements, as well as the implementation thereof.

They create a positive working environment where birthdays and theme days are celebrated and will increase morale. These events are typically initiated by women.

If a business employs more women, it will attract more female employees, not just to the business, but to the industry as well. For example, if tech companies employed more women in senior positions they would encourage and motivate other females to want to pursue careers in the tech industry.

Businesses will gain valuable insights into their female customer base if they employ more women. However, to be able to use this insight for profitability, they would need to place more women in decision-making roles.

Women in management positions will allow for better conflict resolution as they are naturally emotionally mature and have higher levels of EQ. 
READ: 4 obvious benefits of women in the workplace in a digital era 
5 ways to address gender diversity at work
Eliminating gender bias in the workplace will allow businesses to delve into other sources of employees, such as skilled moms. Here are some ideas on how businesses can hire more qualified women to occupy senior positions.
Proactively source diverse workers through companies such as RecruitMyMom who specialize in recruiting skilled women. Our recruitment managers will be able to source suitable candidates from our database which currently has more than 100 000 registered, qualified women.

Implement returnship programmes as part of the recruitment strategy. Returnships are a great way to employ qualified women who have taken a career break and are looking to rejoin the workforce and/or get back into their senior positions. This type of programme is ideal for working moms.

Upskill your existing loyal employees. There may be women within the company, with years of experience but no formal training. By upskilling them, businesses can promote current female employees into senior roles without having to source new candidates. Consider looking at micro-credentials when hiring new female staff. 

Adding flexible working hours, hybrid working models and the ability to do remote work will attract women to the business. According to a McKinsey study, most employees would prefer flexible work models after the pandemic. 

Publicly share and promote gender diversity statistics so as to enhance awareness of the business, and attract skilled women who are in competitive fields such as the tech industry, and are looking to get a promotion to management.
When working towards gender diversity, a good place to start would be to target the senior management level. In this way, businesses get to reap the benefits of having women influence important business decisions.
Existing hiring methods within a company may involve traditional gender bias. To avoid this, RecruitMyMom can offer a professional, full recruitment service that specializes in matching highly skilled women with the right employer. The onus remains on the business to ensure that gender bias is addressed and gender diversity is encouraged. This can be achieved by educating the existing levels of management about the benefits of having women participate in important decisions and discussions.
The aforementioned benefits of having women in senior positions further support the fact that gender diversity isn't just good for women, it's good for business.
---
Visit RecruitMyMom, South Africa's award-winning online recruitment agency specialising in skilled part-time and flexible work.